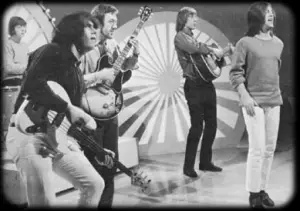 Dick Taylor is a British Blues guitarist who played with Mick Jagger and Keef Richards before they were in a band, and went on to form The Pretty Things. Mick and Dick went to the same school in Dartford, near London and when Dick went to Sidcup Art School, he met up with Keef. The three Blues-mad kids would play together at friends' houses and started going to Alexis Korner's Ealing Blues Club, where they met Brian Jones playing slide-guitar under the name 'Elmo Lewis'. Dick switched to bass to accommodate Brian, and played at the Rollin' Stones first ever gig, at The Marquee Club on July 12th 1962, when Alexis asked them to fill-in at their residency there because the BBC wanted his band Blues Incorporated to make a broadcast. Dick won a place at London's Central School of Art, so The Stones recruited Bill Wyman on bass and set about becoming a World Phenomenon, while Dick went off to study. The following summer Dick picked up his guitar again and formed The Pretty Things (named for a Bo Diddley track) with singer and harp player Phil May, and set about proving that The Stones weren't the only bad boys in town! Their first three singles 'Rosalyn', 'Honey, I Need' and 'Don't Bring Me Down' were heavily influenced by the work of Jimmy Reed and Bo Diddley, and all three went high in the pop charts. Unlike a lot of British bands, The Pretty Things did not tour America after an 'incident', apparently concerning a fire and a crayfish, on an internal flight in New Zealand. The band were banned from New Zealand and that, in turn, created difficulties with visas for the States.

Dick plays his Gibson in this high-energy version of  'Midnight to Six Man' in 1966;
They spent several years gigging around the UK and Europe, with occasional chart entry singles, but lost their way in the late 60s as psychedelia came around. Dick and Phil wrote and recorded the first 'rock-opera', 'SF Sorrow' but its commercial failure led to Dick leaving the band. They re-formed and split up several times, until in 1990 they made a successful tour of Europe with
Luther Allison
and
Stan Webb
's Chicken Shack. The following year, Dick and Phil recorded 'The Chicago Blues Tapes' with producer George Paulus, then returned the 'Windy City' to cut 'Wine, Whisky, Women' in 1994. Quite literally re-discovering their mojo, The Pretty Things, with Dick and Phil at their core, continue to gig and record, touring the UK, Europe and Australia. They finally returned to New Zealand in December 2012!