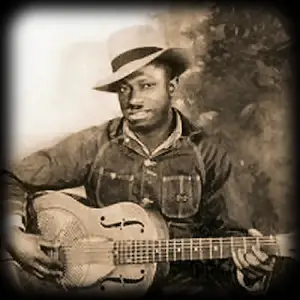 Little is known of Robert Petway's life beyond the sessions he recorded for Bluebird Records in 1941 and '42. Those records include 'Catfish Blues', which Muddy Waters adapted as 'Rollin' Stone' a few years later, and the high quality of those pressings give us the authentic sound of Delta Blues just before it came to the city and turned electric. Absolutely nothing is known of Robert's fate after his last studio date in Chicago on February 20th 1942. In fact, there is speculation that 'Robert Petway' is simply an alias of Tommy McClennan, another Bluesman he collaborated with, who disappeared around the same time.
Records tell us that Robert was born in 1907, and grew up around Yazoo City MS. The story goes that in the early 20s, he befriended the young
Tommy McClennan
, and they were both admirers of
Charley Patton
's Blues style, and both copied his guitar work and vocal delivery. It was customary in that place and time for one player to sing and play 'turnarounds' while the 'second' guitar played chords. The pair supposedly spent a decade making a living playing juke-joints around the Delta, where they made the acquaintance of
Dave 'Honeyboy' Edwards
among others, and it seems they were based near Greenwood MS in the late 30s. Tommy was noticed by someone who passed his name on to
Lester Melrose
in
Chicago
, and he was invited to travel North to make some records, but Robert did not go with him.
In 1941, Robert was also invited to Chicago, where he cut eight tracks for Lester's Bluebird label, including 'Catfish Blues'. All were issued on record, and the following year he cut another eight songs for Lester, with six of those being released, but the arrival of WWII a few months later brought this brief career to a close. Nothing further is known about Robert, and there is only one existing image of this enigmatic early Bluesman. Of course nothing is known for sure about Tommy McClennan after that date either, leading to speculation that they are one and the same man!
Robert's 'Catfish Blues' from 1941.