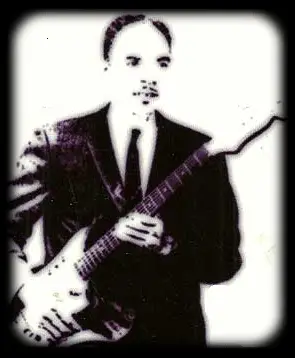 Oscar Wills was a skinny TV repair-man from Houston TX, who recorded his own song, 'Flatfoot Sam' in a local studio, and wound up with a national hit.
He had already sold a song, 'My Dolly Bee', to Don Robey at Duke Records and that had been recorded by Junior Parker, so he figured he could do it too.
When 'Flatfoot Sam' came out on the tiny 'Cliff' label in Shreveport LA. local record store owner, and future Jewel Records boss, Stan Lewis suggested Oscar call himself TV Slim, perhaps hoping to copy the success of Guitar Slim over in New Orleans.
The record sold pretty well in the region, and must have been noticed by Leonard Chess, who arranged for Slim to record a tighter version of the song with Cosimo Matassa's house band featuring Robert 'Barefootin' Parker on sax.
When the track came out on Chess's Argo subsidiary, Slim had a national hit. This formed the bedrock of Slim's career, as he spent the next decade recording a saga of spin-off records about Flatfoot Sam, including 'FS No.2', 'FS Met Jim Dandy', 'FS Made a Bet' and 'FS is Back!'
The original 'loose' version of 'Flatfoot Sam';
Despite his lack of hits, the determined character that got Slim started kept him on the road and in the studio recording for labels like Checker, Speed, USA, Excell, Pzazz, Timbre,and Ideel.
Slim had a tidy guitar technique and played some wailing country style harp. His songwriting style tended towards storytelling on domestic themes, delivered with that easy-rolling beat typical of Swamp Blues.
Slim's titles include 'Tired of your Cheatin and Lyin', 'The Fight', 'Gravy Round Your Steak' and 'Don't Reach Across My Plate', which was later covered by Albert Collins. In 1969, Slim died in a car-wreck on Route 66 near Kingman AZ.
Sadly, his music is almost impossible to obtain today and his vinyl discs are collectors items.