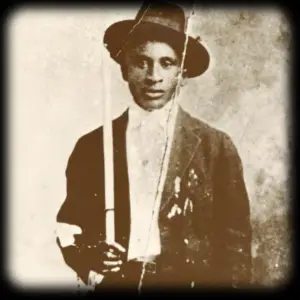 The records made by Amédé Arduin in the 30s are at the very heart of the Creole French music of Louisiana. Played by white folks, it is called 'Cajun' and played by black folks it is known as 'Zydeco', but everyone who hears it knows that it is superb, French-based dance music. Amédé was a pioneer of his genre, because he wrote so many great original tunes that have come to us down the years. His work is similar in importance to Delta Blues players from Dockery Plantation near Clarksdale, like Charley Patton, Son House and Robert Johnson, whose music is fundamental to the origins of the Blues, in that Amédé's music was so influential on those who came after him.
As befits a pioneer of Southern music, Amédé Arduin was 'born on the bayou' in 1898, and his whole family worked on a farm near Basile LA. The young Amédé learned to play accordion under the guidance of his neighbour Adam Fontenay, father of fiddle player Canray Fontenay. Amédé began playing local dances with fiddlers Alphonse LaFleur or Douglas Bellard while he was still a teenager, developing a strong, high voice, a confident delivery, and a swinging accordion technique that got everybody on their feet. When he moved to nearby Chataignier to find work he met Denus McGee, a young white fiddler from Eunice, and they were to be the first bi-racial Cajun musicians to make a record. They first gained a reputation around the region for lively playing and fine songwriting, and this made a big impression on Amédé's younger cousin Alphonse
'Bois Sec' Arduin
, who was to go on to provide a 'living-link' between the origins of 'la-la-music' to the post-WWII revival of Zydeco.
Amédé and Denus play the 'Eunice Two-Step';
Amédé and Denus began their recording career in December 1929, when they cut seven tracks together in New Orleans. The sheer energy caught on these records, the exuberance of their playing, and the infectious bonhomie it produced, ensured that this style of Folk music, from a small community in the boondocks, went on to have a powerful cultural influence. More sparkling accordion work and Creole French lyrics followed at another session the next year, and their records sold well throughout the region, not just to the French-speaking community. The 'Depression' killed record sales for a while, but two more recording sessions in San Antonio and New York in 1934 brought Amédé and Denus's output to 34 songs, many of which have been incorporated into the Zydeco repertoire.
Iry LeJeune
,
Clifton Chenier
, 'Bois Sec' Arduin,
Boozoo Chavis
and many more fine musicians have recorded Amédé's songs, and the sound of his lilting accordion almost defines the 'bon temps' quality of Zydeco music.
Sadly, Amédé did not live beyond middle age, and the circumstances of his death are controversial. He passed away at the Pineville Mental Institution at Alexandria LA in 1942. Medical records indicate he had advanced venereal disease, but a disturbing incident a couple of years earlier may have contributed to his demise. Appearing with Denus, Amédé played for both black and white fans, but in the pre-WWII Deep South, audiences were rarely integrated. It is reported that he was 'run out of town' many times when moonshine had been consumed at gigs and someone took offense at his presence. At a dance one sweltering night, Amédé called for a towel to wipe his face, and when a white lady offered her handkerchief and he took it, several men were annoyed. Amédé was severely beaten after the gig, and the story goes that a Model-A car was driven over his throat, and he was found in a ditch the next day. He never recovered, physically or mentally. He was unable to eat unaided, let alone perform, and ended his days in Pineville an incoherent shell of his former self. This version of events was told by Wade Fruge and Canray Fontenay in a PBS documentary with Alan Lomax, but a different story around at the time says that Amédé was poisoned by another musician envious of his talent.
In any case, if you want to know where Zydeco music came from, just listen to the pioneering work of Amédé Arduin. You will not be disappointed.