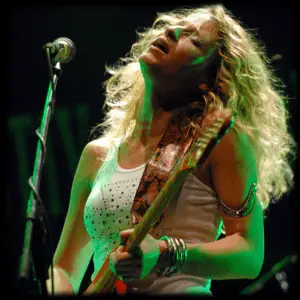 Ana Popovic didn't come from Central Casting's idea of what a Blues-Rocker should be. A pretty woman with wild hair and a sparkly mini-dress is not the everyday leader of a Blues band, especially when this one has a great voice and a talent for guitar breaks on her Stratocaster. Add to that  her Central European origins, her growing prowess as a songwriter and her command of the stage and you get one very exotic creature indeed. Ana has surprised a lot of people in the last ten years, and she still has plenty to say.
Ana was born in Belgrade in 1976 and her father played guitar and bass as well as owning an impressive record collection. He often had friends over to jam, and Ana began to play guitar when she was 15. Despite the political upheaval as Yugoslavia broke up, Ana continued her studies, learning guitar all the time. Her first band, Hush, found a receptive audience and they appeared many times on TV and played more than 100 gigs in 1998 and cut a debut album, 'Hometown'. Ana took up a place at a Conservatory at Utrech in The Netherlands but before completing the first year of her studies, her new band was gigging so often in Holland and Germany she had to give it up. Signing for the German Ruf label, a new version of Hush recorded a self-named album in
Memphis
in 2000. Ana's crisp riffing and elegant slide-guitar playing got her noticed, especially when people heard her husky, supple vocals. A duet with
Luther Allison
's son Bernard is a high spot on an impressive American debut.
'Change My Mind' from the 2003 album 'Comfort to the Soul'.
After contributing 'Belly Button Window' to a Hendrix tribute CD, Ana toured Europe with Walter Trout to promote the album, and the following year she toured Europe again with Solomon Burke. Her second album, 'Comfort to the Soul' had more jazz influences and indeed picked up a jazz award in France, as Ana toured The States three times in 2004. Ana continued a hectic recording and touring schedule, covering Europe, USA, Canada, Mexico, Russia and several Blues Cruises. Her 'Still Making History' album peaked at number 3 in the Billboard Blues chart in 2006 and stayed on for over four months.
Ana plays an instrumental piece showing her slide skills;
Ana played with
BB King
in 2009, and then appeared before 75,000 fans in her hometown, and then in front of 130,000 at the Montreux Festival. All Ana's big albums have been recorded in The States and that is reflected in the authentic tone of her work, which always reaches the upper levels of the Billboard Blues charts. She took that sound with her to India and Indonesia in 2012 and even found time to become a mother for the first time. A funky new album called 'Can You Stand the Heat' and a date at the New Orleans Heritage Festival in 2013 show Ana to be a woman on a mission.