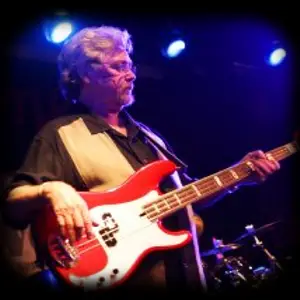 Donald 'Duck' Dunn played bass for everybody from Muddy Waters to Elvis by way of Otis Redding, Albert King, Ray Charles and Bob Dylan. As part of the Stax house-band he contributed some memorable bass-lines to hundreds of hit records and of course he is remembered for playing himself in both the Blues Brothers films.
Memphis
born and bred, young Donald was called 'Duck' by his father as they watched cartoons together. Friends with future guitarist
Steve Cropper
from an early age, Donald was a self-taught bass player whose instinct was to play "what should be there", according to Steve, rather than any given pattern or sequence. This led to some innovative playing when the pair formed their first high school band, which became The Mar-Keys, and they had a national hit with 'Last Night' in 1961. Steve and
Booker T Jones
formed the MGs in 1962, and Donald joined in 1964, providing the Stax label with a house-band of exceptional talent especially with the Memphis Horns on board. Almost the entire catalogue of Stax hit singles was based on this superb unit, and Donald's
Fender
Precision Bass was at the heart of it all.
Albert King
became a world star after recording 'Born Under a Bad Sign' at Stax. The MGs stopped releasing regular records by the early 70s, but their session work kept them very busy. The roster of legends who recorded in front of Donald's bass lines stretches from
Duane Allman
to Neil Young and all points in between.
Booker T and the MGs cut loose in Norway;
[weaver_youtube http://youtu.be/L3MWu6LhWQ8 id=videoid sd=0 percent=100 ratio=0.5625 center=1 rel=1 https=0 privacy=0]
Donald and Steve played themselves in the 1980 film The Blues Brothers and the sequel almost 20 years later, and a lot of touring and session work had happened in the meantime. The MGs played behind the guests at Bob Dylan's 30th Anniversary concert at Madison Square Garden and at Eric Clapton's Crossroads Guitar festival in 2004. Donald and Steve Cropper were in Tokyo, Japan in May 2012, playing with Eddie Floyd, when Donald passed away in his sleep.