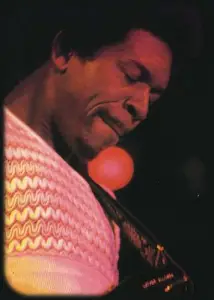 Luther Allison was born in Arkansas in 1939, and relocated to Chicago when he was 12. He learned guitar and would hang around outside the  clubs in the hope of being invited in to play. One day his dream came true and Howlin' Wolf, no less, invited him onstage. Luther often played behind harp legend James Cotton and he eventually came to the notice of Freddie King, who became something of a mentor, and they were among a new generation of Blues players who centred their work on strong, articulate guitar statements, in the style of T-Bone Walker and BB King. Luther played his spiky guitar lines around the West-side clubs in the late 50s and took over Freddie's residency when The Texas Cannonball got his break with King Records. He gigged and recorded around Chicago, along  with other 'young bloods' like Buddy Guy, Otis Rush and Magic Sam Maghett, as their impassioned guitar work and frenetic vocal style re-wrote the book on Chicago Blues. After a decade paying his dues on the club scene, Luther's 1968 album 'Love Me Mama' was released on the Delmark label.
Luther became a big noise at the Ann Arbor Blues Festivals where he played in 1969/70/71 to rapturous response. He signed for the Motown label and his 'Bad News Coming' and 'Luther's Blues' albums from this period are arguably his finest recorded work. Luther toured Europe, where they loved his extended solos and 'crowd walking', and he decided to relocate to France in 1977. He was a big draw on the European club and Festival circuit, but he would make an annual trip back to play in The States, where he would usually tour with a band led by his friend James Solberg . 
In 1994 Luther returned to his homeland and recorded three great albums for Alligator Records which won a hatfull of WC Handy Blues Awards. In 1997, just as his 'Reckless' album was released, Luther was taken ill on tour and he was diagnosed with lung cancer which had metastasized into a brain tumour and it quickly took his life.
'Serious' from a 1985 appearance on German TV;