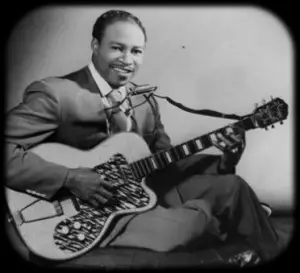 The secret of Jimmy Reed's music was that this simple, bare-bones, laid-back style of Blues was just so easy to listen to. Jimmy's laconic but rock-steady shuffle sound out-sold every other Blues artist from 1955 to 1961, scoring a dozen entries into the Billboard Hot 100 pop charts and selling many millions of records. His songs were covered by everyone from Elvis to the Stones and as his records were one of the key factors in the British Blues Boom, his work must be considered among the most influential in Blues history.

Jimmy was born on a Delta plantation in 1925 and when he was 15 he started learning guitar from his buddy,
Eddie Taylor
. Eddie, who went on to earn the nick-name 'Playboy', is the second secret of Jimmy's success, his rhythm guitar driving all their greatest hits. The pair played around the
Delta
towns as a double act, with Jimmy blowing his harp on a neck-rack, picking his distinctive turnarounds and singing, until 1943 when he was attracted by the bigger scene in
Chicago
. The 18 year-old Jimmy was immediately drafted into the Navy and when he was discharged at the end of the War he headed back to Mississippi to marry his sweetheart Mary, known thereafter as 'Mama' Reed. The couple moved to Gary, Indiana where Jimmy worked in a meat-packing plant. He played around the local club scene, including some gigs with the young
John Lee Hooker
, and joined
John Brim
's Gary Kings, blowing harp on their classic cut 'Tough Times'. In nearby Chicago, Jimmy teamed up again with Eddie Taylor, and the pair auditioned for
Chess Records
, but their gentler take on the Blues did not fit with the hard-driving house sound. Future guitar legend
Albert King
was 'filling in' by playing drums in John Brim's band and when he heard about Jimmy's rejection he arranged a meeting with the newly-formed Vee-Jay label, who signed them up.
This big hit became Jimmy's signature tune;
Success was not instant, but Jimmy's third single 'You Don't Have to Go', with Albert King on drums, made No.5 in the R&B charts in 1952 and a decade of big hits began. 'Ain't That Lovin' You Baby', 'Big Boss Man', 'Bright Lights, Big City' and 'Honest I Do' were all big hits in the R&B charts that crossed into the Hot 100. The rewards of this commercial bonanza were not easy to handle for an illiterate country lad still in his 20s. Despite the best efforts of Eddie and 'Mama', Jimmy turned into a hopeless drunk. Permanently smashed, Jimmy often suffered the DT's (delirium tremens) which delayed the diagnosis of his epilepsy which probably began in 1957. Stories of his drunken behaviour are legion in Blues history; being fished out of the drunk-tank for recording dates; urinating on the dress of another R&B performer backstage at the Apollo; falling down on stage, and worse. Recording sessions became a farce, with Eddie cueing when Jimmy should start singing, blowing his harp or playing his turnarounds. 'Mama' would whisper the words for the next line in his ear, sometimes singing along to keep him in time.
Jimmy and 'Mama' work out on 'Big Boss Man';
Despite all this, Jimmy kept the great songs coming. When Vee-Jay went bust, he continued to record with Bluesway, and covers of his songs by
The Stones
and
The Animals
made him popular on European tours. Jimmy's health problems were catching up with him, and by the end of the sixties he had become a virtual recluse. His epilepsy was finally treated and his alcohol problems were dried out, but by then it was too late because serious physical damage had been done. He died in Oakland, California in 1976, aged just 50.