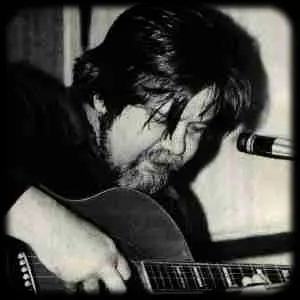 Guitarist Dave Van Ronk was a leading light of the Folk/Blues revival movement centred on Greenwich Village in the early 60s. With a deft fingerpicking style, a rough voice and a devilish way with a lyric, Dave was a popular act around New York, but showed little interest in becoming a star, preferring to explore his own agenda. A political activist, teacher and raconteur, with an extremely wide range of influences including Jazz, Folk, Blues and Classical music, Dave was an inspiration to the younger musicians in his circle as he encouraged them to pursue their destinies.
Born in Brooklyn NY into a mainly Irish family, David Kenneth Ritz Van Ronk grew up surrounded by music. His grandfather played Ragtime piano on 'the rubber chicken circuit', and there was always music on the radio, but Dave had a moment of epiphany when he first bought a
Blind Lemon Jefferson
album and got into Country Blues. There was already a thriving
Piedmont Blues
scene in Greenwich Village with the arrival of
Josh White
, the
Rev. Gary Davis
,
Sonny Terry and Brownie McGhee
in the 40s. Dave took up guitar and tenor banjo in school, working hard on blending elaborate Piedmont syncopations with jazzy overtones. After some recordings with a jug-band, Dave's first solo album,'Dave Van Ronk sings Earthy Blues and Ballads' was issued in 1959. For a left-handed man playing right-handed, who didn't read music, Dave's renditions of ragtime classics like 'Maple Leaf' are remarkable. Dave's apartment became a focal point for the young Folk/Blues musicians flooding to Greenwich Village, and Bob Dylan, Tom Paxton, Janis Ian and Joni Mitchell were among those invited to share his excellent cooking. Dave cut a striking figure as a big man often wearing a long beard, and his radical way of thinking saw him support many left-leaning causes, including getting arrested in the Stonewall Riots of 1969 and playing at a concert for Salvadore Allende in 1974.
Dave's version of 'Stacker Lee', prefeced with a chat about Furry Lewis.
Dave was a fixture on the club and Festival circuit for four decades and he recorded 20 studio albums and many live sessions, displaying his wide range of influences from
Lightnin' Hopkins
to Kurt Weill via Duke Ellington, and he also voiced Prokofiev's children's classic 'Peter and the Wolf'. The precision of Dave's playing and his gift for improvisation and syncopation gave us many incomparable performances, and he shared those gifts by coaching and inspiring many younger players. He did not like flying so Dave never toured widely abroad and, apart from a brief spell in California, he preferred to stay in Greenwich Village, where he passed away in 2002. Dave's biography which was published in 2005, was called 'The Mayor of MacDougal Street', and a section of Sheridan Square in The Village has now been named 'Dave Van Ronk Street'.