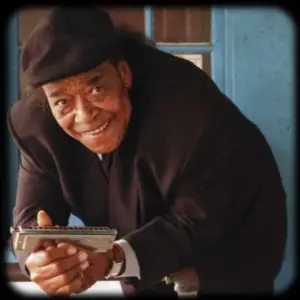 In 1954, James Cotton was a teenage Memphis harp player who had cut a few tracks for Sun Records, when Muddy Waters showed up and offered him a place in his band. James grabbed the opportunity with both hands and stayed for thirteen years. When he went solo, James unleashed a great roaring Blues voice to go with his harp talents, and his career has included several classic albums. Many decades on the road with his own band and several memorable collaborations have made James a world Blues star. Long term throat problems mean he doesn't sing so much these days, but he can still blow up a storm.
Born in Tunica MS in 1935, James was fascinated as a boy by the music coming from the radio on the King Biscuit Time Show. He became a fan of
Rice 'Sonny Boy II' Miller
, and when he was nine years old, James moved to Helena AK to be with his idol. 'Sonny Boy' must have taken a shine to the kid, as they were inseparable for six years, working and travelling together as James was schooled in Blues harp by the Master. James was playing around the clubs and bars of West Memphis, often with the young
Hubert Sumlin,
a friend from the
Delta
days, when he landed a regular gig on the radio himself, with KWEM in 1952, and he also shared a harp spot in
Howlin' Wolf
's band with
Junior Parker
. The following year,
Sam Phillips
set up Sun Records, and the new label released a couple of James's records, including the classic 'Cotton Crop Blues' with
Pat Hare
on guitar.
James, Muddy and the band play 'Got My Mojo Working' .
When Muddy Waters came to town in early 1954, his harp player Junior Wells was AWOL from the Army, so when he decided to 'lay low' in Memphis, there was a sudden vacancy in the band. James didn't need much persuading, so he stepped in and wound up staying with Muddy for many years. Leonard Chess insisted that Little Walter played on Muddy's recordings at that time, but eventually James took his full part in the band, and got a lot of his own gigs and session work in Chicago too. In 1966, James formed his own band, with Sam Lay on drums and Luther Tucker on guitar, and hit the new Blues-Rock audiences with his overpowering harp and vocal talents. He gained a big reputation opening huge auditorium tours for younger, usually white, artists as he gave them a blast of the electric Blues that made Chicago famous. James recorded his high-energy '100% Cotton' album in 1974, with Matt 'Guitar' Murphy and showed he could funk it up with his seminal 'High Compression' a decade later. In between came a lot of gigging, live albums, collaborations with Taj Mahal, Johnny Winter, Otis Spann and Muddy again, and world fame on the Festival circuit. When the renowned Houston club Antone's formed their own label, James cut a couple of excellent albums for them, again with Matt 'Guitar' Murphy, at the end of the 80s, and he was part of the 'Harp Attack' project with Junior Wells, Carey Bell and Billy Branch.
James pours his soul into his harp for 'Blues in My Sleep';
James finally won a Grammy for 'Deep in the Blues' in 1996, but by then his voice was failing due to chronic throat problems. James remained active for many years, although his gigging is not so frantic. He released a fine album every couple of years, the last being 'Cotton Mouth Man' in May 2013, and he could still bend a note so far you'd think the harp is going to snap! James was perhaps re-living a childhood memory as he mentored the extremely young harp player Joshua King around the Festival circuit, to the delight of huge crowds.
James passed away at the age of 81 from pneumonia on March 16th 2017.
James whoopin' it up in 2013!