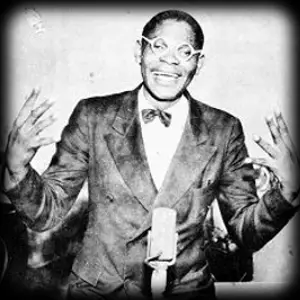 Doc Clayton was a great Blues singer and song-writer who made a big contribution to Chicago Blues in the 30s and 40s. Like many characters in Blues History, his origins are shrouded in mystery and he came to a bad end, but while he was around his clever songs, full of double-entendre, his strong voice and distinctive appearance and the high quality of the side-men he gathered around him, all made an impact on the Chicago club scene and regional record charts.
Peter J Cleighton was probably born in Georgia, or possibly Ohio, in 1898, but he always told people he was born in Africa, and that his parents were immigrants to St. Louis. That is certainly where he grew up and worked in a factory to support his wife and four kids. Peter could play piano and ukelele, but it was his mellifluous voice, jazz timing and great lyrics that got him noticed. The family moved to Chicago and in 1930, Vocalion Records released 'Station-house Blues' by one Jesse Clayton, which sounds like Doc's work but that cannot be proved beyond doubt. However he definitely cut several tracks for Bluebird Records in 1935, with Beatrice 'Toots' Willis on piano which yielded a couple of local hits. Peter became a regular sight on the South-side club stages, but tragedy struck him in 1937 when his entire family perished in a house fire. Always fond of the bottle, Peter was a chronic alcoholic from that time onwards.
 'Root Doctor Blues' will cure any woman's ills!;
He re-invented himself a couple of years later, wearing white glasses and a strange hat, and he recorded several sessions for Okeh Records in 1941, with Blind John Davis on piano and the guitar of Robert Jr. Lockwood. These yielded five good-selling records, under the name 'Peter Cleighton', but Bluebird soon had him back in the studio again with Blind John, releasing his 'Doctor Clayton Blues', which gave him his enduring Blues name. The following year, 'Pearl Harbour Blues' with Ransom Knowling on tuba, or 'brass bass' was a hit record, and Doc appeared on several 12" records on the Victory label, as part of the industry's patriotic drive during WWII .
Doc's 'Pearl Harbour Blues;
Doc's alcoholism meant he spent every penny on booze and most nights sleeping in an alley, wearing everything he owned. However, his voice stayed strong and he continued to write great songs like 'Root Doctor Blues' and others like 'Moonshine Woman', 'I Need My Baby' and 'Hold That Train Conductor', all of which have been covered by BB King and many others. Doc continued to perform around the Chicago club scene with side-men like Robert Jr. Lockwood and Sunnyland Slim, who was usually billed as 'Doc's Buddy'. RCA Victor issued several of Doc's records in 1946 with Blind John and Ransom on board, and some of these tracks were re-released ten years later in the 'new' 45rpm format by Groove Records. Sadly, Doc passed away from pneumonia, or possibly TB, in January 1947. After a small funeral service, only his friends Tampa Red, Big Bill Broonzy, and Bill's wife attended the burial.