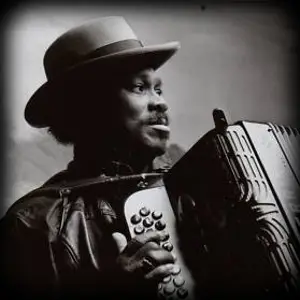 Cajun and Zydeco are the folk music of the Louisiana and East Texas Creole French-speaking community, with the difference between the two tags being largely down to the skin-colour of the players. Before the music went national and then global, Gulf-Coast radio stations played the records of local players Iry LeJeune, Clifton Chenier and Nathan Abshire, and the classic recordings of Amédé Arduin. Like Arduin and Chenier, Delafose is a name that recurs in a dynasty of Zydeco players, due to the enthusiastic style of John Delafose and his band The Eunice Playboys, which is now led by John's son Geno.
Born in Duralde LA in 1939, John Delafose showed an early interest in the music he heard around him. This enterprising  kid made his own fiddle from a cigar box and some wire, and he also took up the harp. When John was 18, he got a button accordion and was in great demand to play at parties and 'fait do-do' dances, but he didn't look for a career in music and made his living as a farmer. In the mid-70s, several documentary films were made by ethnomusicologists fascinated by this distinctive regional style. The films spread the interest to the whole nation and to Europe, especially France, where a new audience was growing for this infectious dance music. When Clifton Chenier played at the Montreux Festival in 1975, a lot of doors opened for Zydeco bands.
 The Eunice Playboys in typical swinging mood;
John had been playing accordion with several local bands when he formed The Eunice Playboys on 1975, with brothers Charles and Slim Prudhomme. His playing had a distinctive 'clipped' quality, and his energetic vocal delivery made The Playboys a popular dance band. They attracted the attention of
Chris Strachwitz
and in 1980, 'Zydeco Man' appeared on the Arhoolie label. A single from the album, 'Joe Pete got Two Women' was a local hit and another album 'Uncle Bud Zydeco' followed. John's sons T.T. on frottior (rub-board) and drummer Tony joined the band as their reputation grew as a good-time Zydeco band that played an old-school fundamentalist repertoire, with plenty of two-steps and waltzes. The music was on a general upswing, with artists like
Buckwheat Zydeco
,
Rockin' Dopsie
and
Boozoo Chavis
taking Zydeco to the world.
John in his heyday, with 'Jolie Catin';
The Eunice Playboys released three more albums in the 80s, and when 'Pere et Fils' appeared in 1992, John's son Gino was sharing vocals and accordion parts. Gino started out in The Playboys on frottoir when he was just 8 years old, and as John's health began to fail, Gino assumed the rôle of bandleader. They made another album, 'Blues Stay Away from Me' in 1993, but sadly John passed away the following year. With Gino out front, The French Rockin' Boogie Band put out three more albums for the Rounder label. Gino has released more solo albums in the new century, including the Grammy nominated 'Le Cowboy Creole' in 2007, and he hosts an annual Zydeco Appreciation Party at his Double-D ranch in his home-town of Eunice, Louisiana.