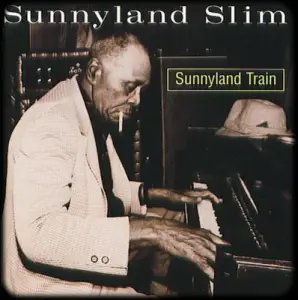 Albert Luandrew began pounding the keyboard in Delta juke-joints in the 20s, and when he moved to Memphis and recorded 'Sunnyland Train' in 1928, he got a new Blues name. He made the journey to Chicago, where he became a session pianist and bandleader, recording at least 250 tracks. Slim had a heavy left hand style with delicate treble trills that made him a sought-after studio musician. Slim was never a star in his own right, although he had a fine singing voice, and he was an important figure on the Chicago scene after WWII, credited with getting Muddy Waters his first recording opportunity at Aristocrat Records, (just before it was taken over by the Chess Brothers) in 1947.
Slim played his piano behind an astonishing roster of Blues stars as a session man over the years, including
Memphis Minnie
,
Buddy Guy
,
Shakey Horton
,
John Brim
,
Homesick James
, Canned Heat and
Mike Bloomfield
, among many others. Possessed of a fine, strong voice and a delicate sense of phrasing, Slim began to make a name for himself as a solo performer in his later years. A well as playing in Chicago and beyond, he was a regular tourist in Europe and started his own record label, Airways, in 1970. Slim played the club and Festival scene well into his eighties, with the verve of a man of half his years. He passed away in Chicago in 1995, as a result of renal failure.
Slim belts out 'Tin Pan Alley' in fine style;