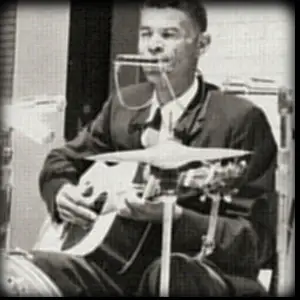 Driftin' Slim was an Arkansas Bluesman who learned his harp playing with both 'Sonny Boy' Williamsons, and found a degree of local fame later on the West coast as a one-man-band. Elmon Mickle was born near Little Rock AK in 1919, and when he was young, he met John Lee 'Sonny Boy' Williamson, who kindly gave him some tips on playing Blues harp. By the mid-40s, Elmon had adopted the nom-de-Blues, Driftin' Slim and was playing local juke-joints with the 'other' Sonny Boy, Rice Miller. He formed a band and played several live gigs on local radio stations before making his recording debut on the Modern label in 1951. 'My Little Machine' was released as the first Driftin Slim record, while others were issued under his real name, and others under the name of Junior Brooks, the guitarist in the band.

This was Slim's second single, 'Good Mornin' Baby';
In the mid-50s, Slim relocated to Los Angeles, where he put his harp in a neck rack, got a hi-hat and kick drum, then took up guitar to play as a one-man band. His first recordings on the
West coast
were for the Elco label, who released his version of
TV Slim
's 'Flatfoot Sam' in 1959. The Folk/Blues revival gave Slim the chance to play a lot of student coffee houses and campus parties, and he recorded several singles for small labels, often under the name 'Model-T Slim'. When he finally cut an album for Milestone Records, 'Somebody Hoo-Doo'd the Hoo-Doo Man?' in 1968, several of the tracks featured a full Blues Band. However, this proved to be Slim's swan-song as declining health forced his retirement soon afterwards. He passed away in 1977 in LA.