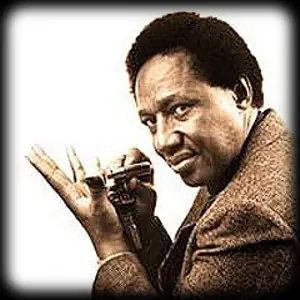 Chicago harp player Billy Boy learned from the best: legend has it that the kid knocked on John Lee 'Sonny Boy' Williamson's door and asked him how he played the harp. The patrician Sonny Boy gave the 13-year-old some lessons, but that tutoring was cut short when the maestro was murdered soon afterwards. Billy Boy never strayed far from those roots as he went on to become something of a legend himself.
Born and bred in The Windy City, William Arnold was 17 when he made his recording debut for the small Cool label. 'Hello Stranger' came out in 1952, and was credited to 'Billy Boy' Arnold, so he kept the name the company gave him. A couple of years later, after playing harp in
Bo Diddley
's street band, Billy Boy appeared on Bo's massive breakthrough single 'I'm a Man'. A clash of personalities with
Leonard Chess
led Billy Boy to leave Bo's band and move to the rival Vee-Jay Records. He spent a few years there, producing influential hits like 'I Wish You Would', 'Prisoner's Plea' and 'I Ain't Got You', revealing a fine Blues voice as well as showing his chops on harp. Billy Boy played with
Howlin' Wolf
,
Muddy Waters
and
Earl Hooker
, establishing himself as a featured artist on the
Chicago
club scene. Apart from 'More Blues from the South-side', produced by
Sam Charters
, Billy Boy didn't record much in the 60s.
Billy Boy and Chicago session band The Aces!
In 1975 a European tour with The American Blues Festival, alongside Bo Diddley and
Johnny 'Guitar' Watson
, extended Billy Boy's reputation 'across the pond'. He toured Europe several times as a solo artist and cut an album 'Ten Million Dollars' for Black and Blue in France. At home in Chicago, Billy Boy made ends meet by working as a bus driver and later as a parole officer. He made a great comeback in 1993 when he signed for Alligator Records, and produced 'Back Where I Belong'. True to the title, Billy Boy stormed through a collection of classics laced with some great compositions of his own. The follow-up 'Eldorado Cadillac', made with guitarists
James Wheeler
and Bob Margolin, repeated the formula. Other fine albums like 'Boogie'n'Shuffle' with
Duke Robillard
and 'Blue and Lonesome' in 2012 with
Tony McPhee
show that even in his seventies, Billy Boy can still cut it with that 'Sonny Boy' sound.