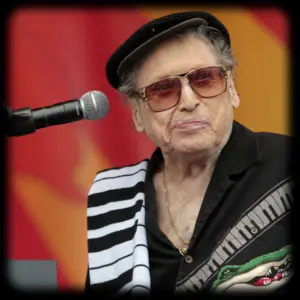 After WWII, New Orleans rocked to the sound of up-tempo Jump Blues, soon to be called R&B, driven by pounding piano riffs, funky drumming and light, clipped saxophones. Young men like Fats Domino, Smiley Lewis and Roy Brown laid the foundations for Rock'n'Roll when the music crossed over into the mainstream in the mid-50s. Frankie Ford was in the 'second wave' of New Orleans rockers, but his 'Sea Cruise' stormed the charts all over the world.
Frankie Ford was born in Gretna LA in 1939, the adopted son of Vincent and Anna Guzzo, and he started out singing and dancing on stage from the age of 5. In High School, Frankie played piano and sang with his band The Syncopators. When they went on to play a gig in New Orleans in 1959, Frankie was seen by his future manager Joe Caronna, who gave Frankie the chance to make a record at
Cosimo Matassa
's J&M studio The result was 'Cheatin' Woman' which was a local hit, but it was the follow-up 'Sea Cruise' that made him famous.
Huey 'Piano' Smith
wrote and recorded the song, and his version sold well, but producer Johnny Vincent dubbed Frankie's impassioned vocals on Huey's backing track to make a record that sold in the millions around the world. Frankie became a 'teenage heart-throb', and had a string of hit singles like 'Roberta' and 'Alimony'.
Smooth young Frankie performs 'Sea Cruise' on TV;
[weaver_youtube http://youtu.be/Cxj1KPQWRRg id=videoid sd=0 percent=100 ratio=0.5625 center=1 rel=1 https=0 privacy=0]
[stextbox id="custom" caption="Frankie Ford Discography" float="true" align="left" width="300″]This really sums up the best bits of Frankie's career, with his first six singles (A and B sides) for Imperial, plus a couple of unreleased tracks and the whole of New Orleans Dynamo.
CRUISIN' WITH FRANKIE FORD
[/stextbox]In 1962, Frankie was drafted into the Army (just as Elvis was discharged) and he was recruited by 'Special Services' to entertain troops in Korea and Vietnam. After his two years were up, music had changed radically following 'The British Invasion' and Frankie had trouble establishing himself again in the public eye. He hopped around several record companies in the 60s and developed a new, jazzier style. Frankie knew how to put on a show, so he developed his image as 'The New Orleans Dynamo'. In 1984, he cut an album in London for Mike Vernon, with that as the title, where he put his stamp on some classic New Orleans material.
Frankie died in in his native Louisiana aged 76 on September 28, 2015