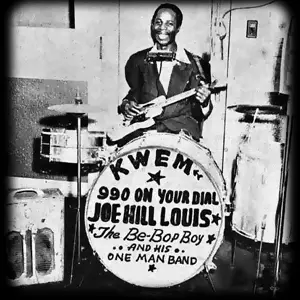 There is a long tradition of one-man-bands playing Blues music on street-corners. Strumming a guitar, blowing a harp in a neck-rack and beating drums and crashing cymbals with some combination of feet, knees and elbows, a street entertainer could make a living from this talent for multi-tasking. Daddy Stovepipe was the first one-man-band to make a record, releasing his 'Stovepipe Blues' in 1924, and he was followed by Driftin' Slim, Juke Boy Bonner and Doctor Ross, who all featured in the Folk/Blues revival of the 1960s. Sadly, Joe Hill Louis did not, because this talented musician, broadcaster and songwriter passed away at the tragically young age of 35.
Lester Hill was born in Raines, Tennessee in 1921, and after he won a fist-fight with another kid, his friends called him 'Joe Louis'. He went to work in
Memphis
, spending some time at The Peabody Hotel before WWII, and supplimenting his income by performing on the streets as a one-man-band. In 1949, he made his recording debut with 'Railroad Blues' for Columbia, which brought him to the attention of
Sam Phillips
. When Lester recorded 'Boogie in the Park' in 1950, his guitar was busted and this gave it a distinctive, loud tone which Sam loved, so he released it in his Phillips label, a precursor to the Sun label. Also that year, 'Joe' (as he was now known, combining his real and nick-names) got a break as a DJ on WDIA radio, where he took over as 'Pepticon Boy' from
BB King
, soon changing the name to 'Be-Bop Boy'. Sam Phillips used Joe many times as a session musician, playing guitar on
Rufus Thomas
's 1953 hit 'Bear Cat' and drums on several
'Shakey' Horton
tracks. Joe also cut a version of his co-written song 'Tiger Man' with
Walter Vinson
, and this song was later recorded by Elvis.
Joe's first release was on the 'Phillips' label;
Joe continued to work as a one-man-band in the 50s, with seven records released on the Modern label, and at least half-a-dozen on various other labels. Joe's career was cut tragically short when a cut on is thumb was infected by tetanus, a disease which took his life in a Memphis hospital in 1957, when he was only 35 years old. After he was gone, several albums of his recordings were issued on European and Japanese labels, some of which found their way home, and confusingly many were credited to 'Be-Bop Boy'. Examples of Joe's work also appeared on many compilations of 50s music, especially those focussing on the musical hot-bed that was Memphis in those years, and on the history and roots of Rock'n Roll, which is littered with stories of unsung heroes like Joe Hill Louis.