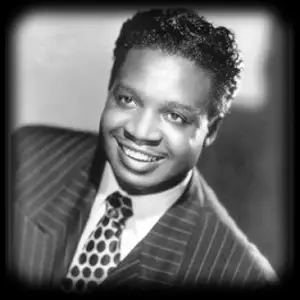 There is an on-going debate about the origins of Rock'n'Roll, but there is little doubt that it sounded very much like the R&B that Roy Brown was producing in New Orleans around 1950. His powerful, emotional Gospel style vocals, with melismatic swoops, shrieks and bellowing choruses, influenced the singing of generations of Rockers and Bluesmen that followed. Bobby 'Blue' Bland, Little Richard and James Brown all took a lesson from Roy, but he could also write a great song, and his best remembered composition saw him inducted into the Blues Hall of Fame.
Roy Brown was born in New Orleans in 1925, and grew up in Louisiana and Texas but moved to Los Angeles when his mother died in 1942. His vocal skills were honed in Church, but Roy was keen on becoming a boxer and fought as a welterweight, although he was rejected for Military service on account of his flat feet! Roy won a singing contest, then moved to Galveston, Texas, where he fronted a band and started to play some Blues. When he wrote a song called 'Good Rockin' Tonight', he tried to get his idol
Wynonie Harris
to record it, but he didn't take it up. In June 1947, Roy went to
Cosimo Matassa
's J&M studio across from
Congo Square
in New Orleans, and he emerged with his own version of 'Good Rockin' Tonight', which put his Gospel vocals over a driving rhythm and "talked a little dirty", making it a prime candidate to be a rock'n'roll anthem. It got some airplay on 'white' radio stations, and the local 'black' stations, especially 'Poppa Stoppa's Show', played it almost non-stop, and Roy's version reached No.13 in the R&B charts. Wynonie Harris finally recognised a 'good thing' and his version went to No.1 in the following year, and Elvis, Jerry Lee Lewis, Ricky Nelson and Bruce Springsteen have all had success with Roy's composition. Further big hits in the same vein, like 'Hard Luck Blues', 'Miss Fanny Brown' and 'Cadillac Baby', made Roy the best selling R&B artist from 1949-51.
Roy's original version of 'Good Rockin Tonight';
After a backstage bust-up with
Fats Domino
that divided opinion in the New Orleans music community, in 1952 Roy won a court battle for access to his royalty payments from Wynonie's records on the King label. This was a double-edged victory that may have caused him to be black-listed by record companies, and it certainly caused him trouble with the IRS, because he did some jail-time for tax evasion, despite Elvis generously writing him a cheque. Roy's career never recovered, although he made the R&B charts in 1957 with 'Let the Four Winds Blow'. He sold encyclopedias door-to-door, sold the rights to 'Good Rockin' and played only the occasional gig. In 1970, he played the Monterey Festival with the
Johnny Otis
Show and had a reasonable hit with 'Love for Sale', and a low-key revival started. He toured in Europe in 1978 and his final appearance in 1981 was at the New Orleans Jazz Festival, one month before he passed away from heart trouble at home in California.