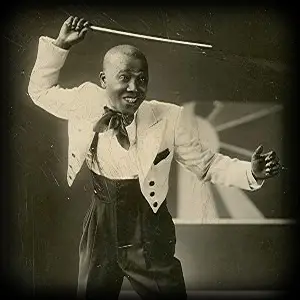 Drag acts are not usually associated with The Blues, but in the Speakeasies of Harlem and Chicago, during the 'Roaring 20s', it was a case of 'anything goes'. Gladys Bentley wore a top-hat and tux as she charmed the customers of New York clubs, and in Chicago, Frankie 'Half Pint' Jaxon would amaze his audiences as he appeared in sparkly dresses and wild wigs, while singing some extremely rude songs full of 'double entendres'.
Frank Devera Jaxon was born in Montgomery AL in 1897, and raised in Kansas City after being orphaned. Around 1910, he began singing in local cafés and bars before hitting the road in various medicine shows and travelling revues. In 1918, Frankie joined the Army for a while, gaining the rank of Sargeant before returning to showbusiness. He was of quite small stature at 5'2" and this, combined with his high clear voice, led to him including some female impersonation in his act, with bawdy songs and suggestive dancing. In the early 20s, he had a summer residency at the Paradise Café in Atlantic City, touring for the rest of the year or playing Chicago where he sang with King Oliver's Band. Frankie was always the consumate showman, with a good sense of drama, and he helped Blues Divas like
Bessie Smith
and
Ethel Waters
with staging their hugely successful touring shows.
 Frankie's 'Willie the Weeper' from 1927;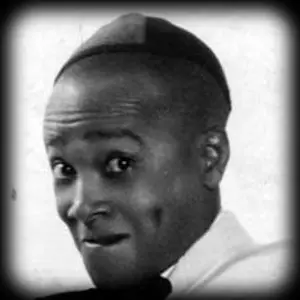 Frankie's own recording career began in July 1927, when he recorded a couple of songs with pianist Blanche Smith Walton, which were released on the Gennett and
Black Patti
labels. Soon afterwards he cut the influential 'Willie the Weeper' and a rude Hokum Blues, 'I'm Gonna Dance with the Guy Who Brung Me'. The following year,
Tampa Red
and
Georgia Tom Dorsey
had a big Hokum hit with 'Tight Like That', and Frankie often appeared with them in full drag in a trio, billed as The Hokum Boys or The Black Hillbillies. Frankie indulged his taste for theatre by including many costume changes in their live show, and they had a hit record with their salacious version of
Leroy Carr
's 'How Long, How Long?' When Tom Dorsey found Religion in 1932 and Tampa Red teamed up with
Big Bill Broonzy
, Frankie continued as a solo artist, recording with his band The Hot Shots, and later he often featured on the radio in Chicago billed as 'Half-Pint and his Quarts of Joy'.
 'It Must be Jelly 'cos You Know Jam Don't Shake' from 1940;
In 1937 and '38, Frankie recorded several times with
Kansas Joe McCoy
's band The Harlem Hamfats, featuring Ransom Knowling on bass, with songs like 'Wet It', 'The Dirty Dozens' and 'Take It Easy, Greasy' continuing his Hokum tradition. In 1941, Frankie retired from showbusiness and went to work at The Pentagon in Washington. He later transferred to Los Angeles, where he passed away in the Veterans' Hospital in 1953.