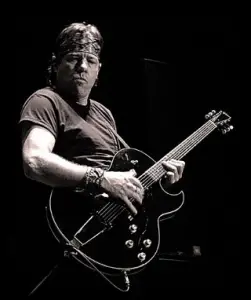 George Thorogood is not a great innovator, but he knows how to rock and he knows how to boogie and the fans love it. George and his band The Destroyers helped to kick off the eighties Blues boom that gave us Stevie Ray Vaughan and Robert Cray, and his steady Blues-rock output over the decades have given him two platinum and six gold discs, and over 15 million sales.
A native of Wilmington, Delaware, George was so impressed by a John Hammond Jr. concert in 1970, the 20-year-old headed for the West Coast to try his luck with his guitar. He picked up some work, but returned to Wilmington in 1973 to recruit his band The Destroyers.
George was a pretty good at baseball, playing semi-pro, and his friend and Destroyers drummer Jeff Simon played in the same team. The band cut their first album 'Better Than the Rest' in 1974, but couldn't get it released. In 1976, their self-named album came out on the Rounder label, including three of George's songs and featuring his insistent guitar work, and the follow-up 'Move It on Over' climbed into the album charts. This encouraged MCA to pick up 'Better Than the Rest'. A rigorous touring schedule followed, including the 50/50 Tour, when the band played all 50 States on consecutive nights, and completed the idea by playing Washington DC on the same day as Maryland!
The video that announced George to the world;
The Destroyers had picked up sax player Hank 'Hurricane' Carter when they opened the 1981 Rolling Stones tour, and the following year George's song 'Bad to the Bone' hit the US Rock charts. The album went gold and they got heavy rotation on FM radio and MTV. The band had an international profile by this time, but their Live Aid appearance on the same bill as Albert Collins sent them truly global. Their live album went platinum, and they were able to fill pretty big arenas as a headline band, blasting the audience with their own brand of Blues-rock mixed with updates of Chicago classics. George and The Destroyers contributed a track to the John Lee Hooker album 'The Healer' in 1989, and in 1991, their compilation 'Baddest' went platinum.
A taste of their tour celebrating 30 years of Destroying!
The Destroyers remain a popular live band and their records sell well. Their 2011 album '2120 South Michigan Avenue' is a tribute to Chess Studios where so many iconic records were cut, and it features guest appearances from   Buddy Guy and Charlie Musselwhite. The title track is an instrumental written by The Stones when they visited the Studio in 1964.