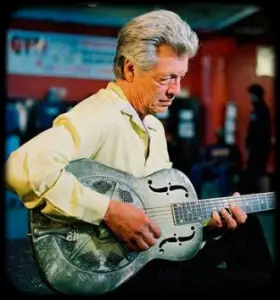 John Hammond Jr. has enjoyed a long career playing country Blues on his National Steel guitar and Blues harp, carrying a technique soaked in the Delta to stages all over the world. John is no country copyist, as his electric guitar work shows, but his dedication to acoustic Blues has done a lot to preserve the roots of the original music that is the foundation of so much that followed.
The son of Columbia Records executive John Hammond Sr. who was responsible for signing Dylan, Springsteen and Stevie Ray Vaughan, it's no wonder John grew up loving music.

His parents were separated and John and his father were not close, but the fruit falls close to the tree, and a career in music soon came around. John started playing slide-guitar in school and when he saw
Jimmy Reed
play at the Apollo, he knew he had to play the Blues. He quit college after a year to play in the New York clubs where an audience for country Blues was growing along with the folk boom. He was signed by Vanguard Records who released his first album just after a triumphant show at the 1963 Newport Folk Festival. With his slashing slide-guitar, his harp in a neck rack and his expressive voice, John presented the sound of the Delta in the unlikely package of a 20-year-old kid weighed down with the title, 'The White
Robert Johnson
'.
The sound of Mississippi from a National Steel guitar;
After a tour of Britain, John recorded an album of acoustic Blues and an electric album that helped to lay the foundations of Blues-rock. In the Greenwich Village clubs John worked with Jimi Hendrix and Duane Allman before they moved on and recorded a couple of albums with Robbie Robertson, Levon Helm and Garth Hudson, just before they formed The Band, as well as with Charlie Musselwhite. In the early 70s, John was part of the ill-fated 'supergroup' Triumvirate with Dr. John and Mike Bloomfield. By 1976, John had emerged as a solo artist with an authentic sound covering great blues songs from the past. With a few exceptions, John has continued on this path as a live performer, giving us one man's Blues and the full range of emotions a single voice, guitar and harp can convey. This formula has been in constant demand for concerts and Festivals all over the world. John was awarded a Grammy for his performance at the 1985 Montreux Festival along with SRV and KokoTaylor.
John Hammond in session in 2016
In the studio, as well as his solo efforts, John has collaborated with a wide range of musicians, including an occasional band, The Nightcats, and with bassist Larry Taylor and Augie Meyer's keyboards. Another collaboration with Tom Waits in 2001 resulted in 'Wicked Grin', an album of Waits' songs. John continues to record and perform on the world stage, and his output stands at 40 albums.