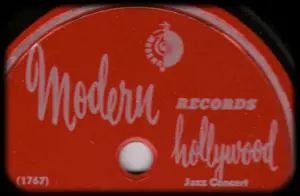 Lester, Jules, Saul and Joe Bihari were four brothers of Hungarian descent who were responsible for setting up a string of record labels in Los Angeles and Memphis that made a huge contribution to the success of Blues music, especially on the West Coast, in the post-WWII era.
The eldest brother, Lester, had a job as a juke-box repair man in LA, and he noticed that his clients in the South Central area had trouble getting hold of the Blues and R&B records that were so popular. He remedied this by setting up Modern Records in 1945 with his brothers Jules, Saul and Joe, and set about looking for local talent to record, and also for good records to lease from Chicago and Memphis. Their first success was with local girl Hadda Brooks' 'Swingin' the Boogie', but their real breakthrough came in 1951 with BB King's 'Three o'clock Blues', which stayed at the top of the R&B charts for 16 weeks. Modern expanded by launching the RPM and Flair labels, and set up the Meteor label in Memphis, with Ike Turner as producer. Other Big Beasts of the Blues who recorded for the Modern Group include Elmore James, John Lee Hooker, Lightnin' Hopkins and Lowell Fulson among many more.
Saul was mainly responsible for the manufacturing side of the business and ran the record pressing plant that churned out millions of hit records while Jules managed the studio and Joe handled sales. In common with almost all record companies at the time, the Biharis would often add their names to the writing credits to get some of the cash from publishing royalties. Jules was 'Jules Taub', Joe was 'Joe Josea' and Saul was 'Sam Ling'. For example, John Lee Hooker's 'Turn Over a New Leaf' is credited to Hooker/Ling. On the other hand the brothers were music fans, and very approachable characters, as many of their artists have noted. The Modern label went bankrupt in the mid 60s, so the brothers set up Kent Records, which bought the Modern group's back catalogue. They continued producing new Blues and R&B records until Saul's death in 1975, at the age of 56. The company slid into decline, and was taken over by the British imprint Ace Records in the mid 80s.