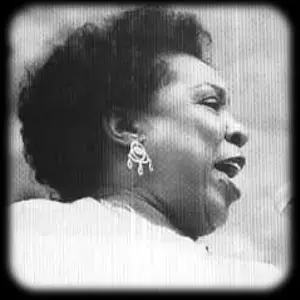 Helen Humes was a fantastic Blues singer who made some very early recordings as a solo artist, became famous as the voice of the Count Basie Orchestra, toured Europe with the American Blues Festivals and made a formidable comeback after a ten year retirement. With a recording career lasting well over 50 years, Helen never had a really big hit single but she could handle a swinging jazz arrangement, a soulful ballad or a lowdown Blues with equal honesty.
Born in Louisville KY in 1913, Helen took up piano and organ and learned to sing in Church. She was spotted by guitarist Sylvester Weaver and taken to St. Louis for some recording sessions in 1927. Helen cut about ten tracks, some with guitarist Lonnie Johnson, including some fairly raunchy material for a 14-year-old.
Further sessions took place in New York, and she stayed there for most of the 30s playing the Harlem club scene. In 1938, John Hammond recommended Helen to Count Basie as a replacement for the recently departed
Billie Holiday
, and when Basie's band played
Hammond's 'Spirituals to Swing'
Concert at Carnegie Hall later that year, she shared vocals with
Jimmy Rushing
. Four hectic years of touring and recording with Basie ended with Helen launching a solo career.
Helen could work an audience! 'Loud Talkin' Woman' tells it straight;
The renowned Greenwich Village nightspot The Café Society often featured Helen with a small combo, and her recordings at this time were typically with a sextet led by Pete Brown or Buck Clayton. Her material ranged from swing numbers to slow ballads, Blues like 'Jet-Propelled Papa' and Helen's own popular jump-Blues composition, 'Be-Baba-Leba'. In 1944, Helen moved to California and often performed in Jazz at the Philharmonic, and scored a reasonably big hit with her 1950 song, 'Million Dollar Secret'. Helen blossomed on the West Coast, taking advantage of the post-WWII R&B boom sparked by the growing LA recording industry, and she also appeared on several movie soundtracks. She continued to record and tour extensively, often in the company of vibe-player Red Norvo's band. In the early 60s, Helen toured Europe with the American Blues Festivals on the same bill as John Lee Hooker and T-Bone Walker.
Outstanding film of Helen leading a band with T-Bone Walker, Willie Dixon, Memphis Slim, Sonny Terry, Brownie McGhee and Jump Jackson. WOW!
In the mid-60s, Helen dropped out of the music industry, moving to Australia for a while before returning to the States to look after her mother. She made a tremendous album to stage her comeback in 1973; 'Let the Good Times Roll' was recorded for the French Black and Blue label, and featured
Clarence 'Gatemouth' Brown
and pianist
Jay McShann
. Using top sidemen like George Benson and
Eddie 'Cleanhead' Vinson
, Helen recorded an album almost every year until she passed away in Santa Monica in 1981.