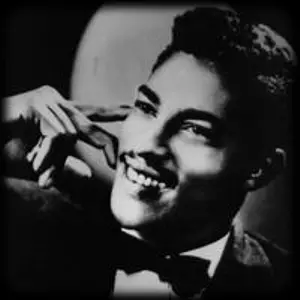 In the early 50s, Willie Mabon was at the forefront of the Chicago blues scene, with massive hit records on the Chess label. After a quiet spell, his career was revitalised in the 70s, when he discovered a new audience across the pond. Although he is not well remembered today, there was a time when Willie Mabon was a big star.
Born in rural Tennessee in 1925, Willie James Mabon was brought up in
Memphis
at a time when Beale Street was alive with original Blues players. When the family moved to
Chicago
in 1942, Willie started taking piano lessons, as he was surrounded by a different Blues environment. He added some phrases from
Roosevelt Sykes
and
Big Maceo
to his formal learning, and there were some jazz influences in there too. When he got back from service in the Marines in WWII, Willie started playing the Chicago club scene, developing a sly, insinuating vocal style. In 1949, he cut his first records for the Apollo label as 'Big Willie', but when he joined the
Chess
label the following year, his career really took off.
Willie performs 'Little Red Rooster' in his own laconic style  (check out the German intro for his fine band!);
[weaver_youtube http://youtu.be/0Wk_jsONrTU id=videoid sd=0 percent=100 ratio=0.5625 center=1 rel=1 https=0 privacy=0]
With the Chess house band behind him, Willie had Number 1 hits with 'I Don't Know' and 'I'm Mad', and 'Poison Ivy' went to Number 7. However, his original version of
Willie Dixon
's 'Seventh Son' did not sell well and he left Chess without having another hit. Willie joined Federal Records in 1957, and then on to smaller labels like Mad, Formal, USA and Sue in the 60s, again without cracking the charts. This didn't affect Willie's popularity in the Chicago clubs and bars, and when the American Blues Legends invited him to tour Europe, Willie discovered a new audience. With his chunky, improvising piano style, Willie proved very popular, especially in France, and like
Memphis Slim
he bought a house in Paris in 1972. Living and recording on both sides of the Atlantic for the rest of his career, Willie was a popular act in Europe, playing the Montreux Festival and touring widely until his untimely death in Paris in 1985.