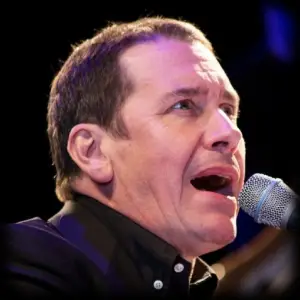 There are not many big bands gigging regularly in Britain these days, but The Rhythm and Blues Orchestra often goes on tour and thrills audiences wherever they go.
The band is the brainchild of the versatile pianist and broadcaster Jools Holland, whose BBC programmes are the place to find Blues and Jazz legends, up-and-coming new performers, and left-field musicians of all kinds.
So long as they make good music, Jools' introduces them with his witty and enthusiastic banter to an audience who trust his excellent judgement.
Jools' work is always passionate, articulate and well informed, whether at the keyboard or at the microphone.
Julian Miles Holland was born in Blackheath, London in 1958. He learned to play his Grandmother's piano, and at the age if 16 was a founder member of the local New Wave band Squeeze, which went on to sell millions of records over a long career.
Jools was already recording solo projects like 'Boogie-Woogie' while 'Cool for Cats' and 'Up the Junction' were near the top of the British singles charts, so he left Squeeze to pursue a career with his band The Millionaires, and began a steady stream of session work.
A new career came along in 1982, when Jools co-hosted The Tube, an anarchic music programme on the pioneering British TV network Channel 4.
Squeeze had disbanded in 1982 but Jools was persuaded to join a re-formed version of the band in the late 80s, however after a couple of years, he started his own big-band with drummer Gilson Lavis from Squeeze, which went on to grow into The Rhythm and Blues Orchestra.
Jools and Dr. John perform a boogie-woogie duet;
Jools continued his broadcasting career by co-hosting 'Sunday Night' on NBC in The States for a couple of years, and since 1992 his 'Later....with Jools' has become a twice-weekly institution on BBC TV.
Jools introduces live music from multiple stages, with a studio audience, and his good taste, enthusiasm and air of bonhomie during interviews makes his programme the premier platform for new music in Britain.
An extended version of the show called The Hootenanny is broadcast every New Years Eve, and is definitely the best party in town.
Dozens of performers like Seasick Steve, Imelda May and K T Tunstall have had their first real exposure on 'Later', 'Hootenanny' and Jools' BBC radio show, as he explores the highways and by-ways of modern music.
His engaging manner brings the best out of his interviewees, and he treats everyone with equal respect for their talents, whether it's BB King, Dr. John, Buddy Guy, or a teenage band from nowhere.
Recommended Album
Jools leads The Rhythm & Blues Orchestra on some 22 tracks featuring his guests, including Dr. John, Van Morrison, Clapton, Winwood, Taj Mahal, Eric Bibb and a superb 'swan-song' from George Harrison.
The Rhythm and Blues Orchestra holds a concert at the Royal Albert Hall each December as a kind of 'public rehearsal' for the Hootenanny, which is especially useful for the guest singers and a delight for fans.
The Orchestra is fronted by British Blues legend Ruby Turner and another great singer Louise Marshall, with fantastic sax, trombone and trumpet players who all solo, a hot rhythm section and Jools' brother Chris on keyboards.
This 18-piece band tours frequently and always provides an unforgettable night out. Jools still lives in Blackheath, and has constructed a remarkable studio based on the architecture of Portmerion in Wales, venue for Jools' favourite cult TV show The Prisoner.
With almost 30 albums to his name, an autobiography, countless film and TV appearances, his ongoing broadcasting work and above all his effortless brilliance as a pianist, Jools Holland OBE is a National Treasure.
Jools, Ruby and the R&B Orchestra rock out on Hootenanny;