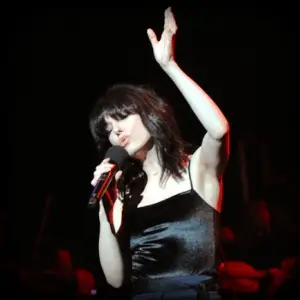 Imelda May is a self-reliant artist who writes her own material and has produced or co-produced all her work to date, and her material certainly has Rock'n'Roll roots, but her voice and phrasing have Jazz and Blues influences all over them. She is a modern musician with a clear vision of the qualities required to make important, enduring music and the pipes to carry it off.
Born the youngest of five kids in the West of Dublin in 1974, Imelda was raised with the sound of her siblings music all around her. One of her brothers was an Elvis fan whose taste extended to Gene Vincent and Eddie Cochran, and when she discovered Billie Holliday and Elmore James too, she knew she wanted to become a singer.
Imelda had made some money singing in a TV advert when she was 14, but other than that her experience was limited to singing with a couple of local bands, so it was a bold decision to drop out of Art College to pursue her career. She quickly picked up some gigs with a swing outfit, Blue Harlem and later with the excellent London Blues pianist Mike Sanchez, but Imelda's main outlet was singing in a burlesque show in Dublin.
She was often barred from her own gigs for being under-age, and Imelda's father gave her some good advice one day on the way to a gig: she was suffering some boyfriend trouble, so he asked her if her heart was broken. She agreed it was, and he responded, "Good. Now you can sing the Blues!" From that day on, her voice has deepened and matured into a fine, rich instrument. She also plays bodhrán, guitar and bass.
Imelda with 'Johnny Got a Boom Boom';
Imelda recorded her debut 'No Turning Back' album in 2003, and it was re-released in 2005, but in 2007 her 'Love Tattoo' album went to No. 1 in Ireland and caught the attention of pianist and bandleader Jools Holland. He invited her to tour with his Big Band, and she also appeared on his prestigious BBC TV show, 'Later with Jools'. This exposure helped with Imelda's first single 'Johnny Got a Boom Boom', a nod to John Lee Hooker, and she made her first tour of the States with Jamie Cullum. In January 2010, Imelda appeared with Jeff Beck at the Grammy awards in a tribute to Les Paul. They repeated the tribute in New York and then toured the States, together with her band. Later that year, as well as making her mark on the European Festival circuit, Imelda released her third album 'Mayhem'. It went to No.1 in Ireland and the UK, and her promotional work in the USA included several prime network TV slots. A triumphant British TV spot on Jools Holland's Hootenanny on New Years Eve 2011 cemented Imelda's place in the hearts of her British and Irish audience.
Recommended Album
Imelda blends her smoky, Bluesy voice and some new Rock'n'Roll inspired material to create a music with the drive and vitality to cross age and genre barriers.
In August 2012, Imelda became the mother of baby Violet, having been married to her guitarist Darrel Higham for ten years. She played several Festivals in 2013 and British/Spanish pianist and singer Mike Sanchez released a great Rockabilly album,'Almost Grown' which they had cut a decade earlier. Imelda's 2014 album 'Tribal' is a mostly self-written, high energy tribute to early Rock'n'Roll.
The breakup of her marriage, followed by another broken heart resulted in a makeover of her look and the 2017 album Life Love Flesh Blood.
When It's My Time from the new album 'Life. Love. Flesh. Blood'.