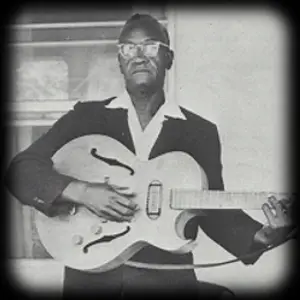 With a laid-back, 'worldly-wise' vocal style and a talent for clever lyrics, Johnny 'Geechie' Temple recorded dozens of his good-selling Blues songs in the 30s and 40s. Although he was never a big star, Johnny had a long career that stretched from his origins in the Delta to the early days of Chess records in Chicago. Johnny was sometimes billed as 'Johnnie' or 'Geechie' Temple, and 'Geechie' is a term associated with the Georgia Sea Islands and the people who worked the rice plantations along the coast, but there is no obvious link in Johnny's history, his guitar playing or singing style, or any of his songs that point towards the region, so his nick-name remains an enigma.
Born in Canton MS in 1906, Johnny learned guitar as a boy from his step-father Slim Duckett. He could also play mandolin and he became a popular guest at house-parties and dances, where he met and learned from
Tommy Johnson
, a local man who was one of the
originators of the Blues
. Johnny was also thought to have played with
Skip James
and
Walter Vinson
at this time. In the early 30s, Johnny made his way to Chicago where, like many migrant Blues players, he met
Memphis Minnie
, her husband
'Kansas Joe' McCoy
and his brother
'Papa' Charlie
. Johnny's first record, 'Jacksonville Blues', for
Lester Melrose
's Vocalion label, featured Charlie on 'second guitar'. This session in May 1935 yielded three records, and the following year Johnny began a long association with Decca Records when his 'Louise, Louise Blues' was a regional hit. When Charlie McCoy joined his brother Kansas Joe in The Harlem Hamfats, they became Johnny's backing band on a series of sessions in New York.
'Louise, Louise' was the song that got Johnny noticed;
After a couple of years the Hamfats broke up, and then Geechie's records were mainly made back in Chicago, where he attracted side-men like guitar virtuoso
Lonnie Johnson
and pianist
Sammy Price
. During 1939/40, Johnny had 14 singles released by Decca, but this run of success was ended by WWII. When peace broke out, Johnny signed for
Syd Nathan
's King/Queen label and recorded a dozen tracks where Big Crawford played bass. Crawford was an associate of
Muddy Waters
and
Leonard Chess
, so Johnny's last recordings, in 1950, were for the Chess label, although none were released. Johnny did not figure in the 'Golden Age' of Chicago electric Blues records, but he remained popular in the clubs where he regularly sang with
'Shakey' Horton
and
Billy Boy Arnold
, and later formed his own band, The Rolling Four. Johnny returned to Jackson MS in the mid-50s where he performed occasionally until he passed away in 1968.