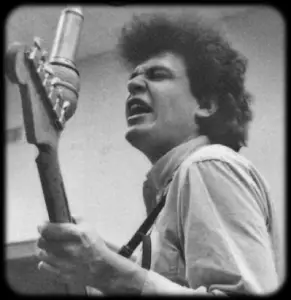 Mike Bloomfield got his Blues guitar education as a kid in the clubs on Chicago's Southside with some of the true 'originators', occasionally jumping onstage to join in with them! He ran a folk club when he left school, where he would book the old Blues players he had played with. Mike joined Paul Butterfield's band for their first two smash albums and the second, 'East-West' featured his extended, jazz-influenced guitar breaks. Mike played on Bob Dylan's first forays into electric music and picked up a lot of session work. In 1967 he moved to the West Coast with fellow Chicagoan, singer Nick Gravenites, where they formed their band Electric Flag playing an exciting blend of Blues-rock. A side project with keyboard player Al Kooper yielded the acclaimed 'Super Session' album, but Mike could not handle the pressure of the many demands on his time and began playing mainly as a session man, occasionally making low-key appearances with Nick and Mark Naftalin.
However, involvement with drugs began to dog his career, and long term alcohol addicttion issues made things much worse. Mike never really got started again, despite being part of the promising 'supergroup' Triumvirate with
Dr. John
and
John Hammond Jr
. in 1973. His personal problems overtook his career completely as the 70s moved on, and although he performed with Bob Dylan and made a short tour of Europe in 1980, this superbly talented guitarist died from a drug overdose on Feb 15th 1981, aged just 37.