LUTHER 'SNAKE BOY' JOHNSON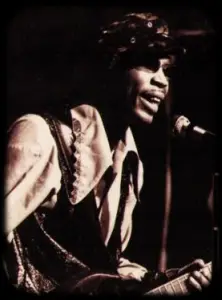 There are no less than THREE unrelated Luther Johnsons that play guitar and sing the Blues, and all of them were born in the South around the same time. Luther 'Snake Boy' Johnson was also known as 'Georgia Boy', referring to his home-town of Davisboro; Luther 'Guitar Junior' Johnson hails from Itta Bena MS, and played spiky West-side guitar for 8 years in Muddy Waters' band before forming his own Magic Rockers; and Luther 'Houserocker' Johnson, who made a successful recording career around his home in Atlanta playing in the style of Jimmy Reed.
The first of these, 'Snake Boy' Johnson, was born Lucious Brinson on a farm near Davisboro GA in 1941, and as one of ten kids he had taught himself to play guitar when he had barely started school.
He served in the Army, and when he was discharged he ended up in Milwaukee playing guitar for a local Gospel group, The Supreme Angels. Lucious soon put his own Blues band together, calling himself 'Luther Johnson' and picking up the 'Snake Boy' tag. When he moved to
Chicago
in the late 50s, he played regularly with
Otis Spann
and
Elmore James
before joining Muddy Waters' band in 1967. Luther had already recorded some tracks for
Chess
, where he was billed as 'Little Luther', and he also appeared as 'Luther King'. To add to the confusion over names, when 'Snake Boy' left Muddy's band to go solo in 1970, his place was taken by none other than Luther 'Guitar Junior' Johnson!
'Lonesome in My Bedroom'
Snake Boy relocated to Boston, where he became a stalwart of the local club scene, and he toured Europe with the Blues Festivals, playing regularly on the college scene in the States. He cut his album 'Born in Georgia' for the French Black and Blue label, and in 1975 his superb follow-up 'Lonesome in My Bedroom', featured
Hubert Sumlin
, Lonnie Brooks,
Dave Myers
and
Fred Below
. Sadly, Luther was soon diagnosed with cancer and passed away the following year, at the early age of 34.