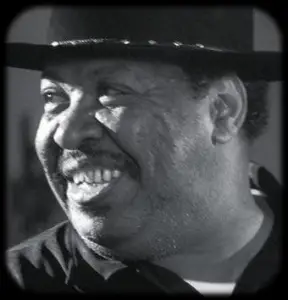 Magic Slim had a career spanning nearly 60 years and three dozen albums, as the leader of legendary Chicago band The Teardrops. Schooled in the 'second wave' of Chicago Blues coming out of the West-side clubs in the late 50s, Slim's heavy vibrato guitar, roaring deep voice and commanding stage presence made him a formidable performer, and when he hit the groove the tall man in the Stetson could rock any joint. Maurice Holt was born in Torrence MS in 1937 and his first instrument was piano, but he had to give that up when he lost a finger to a cotton gin. He was close childhood friend of Sam Maghett (Magic Sam), whose dreams of becoming a Bluesman had taken him to Chicago when he was only thirteen years old.
In 1955, Maurice followed his friend north, and Sam gave him a place playing bass in his band as they developed the distinctive 'West side sound' on the club scene. He also gave Maurice his stage name of Magic Slim. In truth, Slim was not really up to the task, and he went back to Mississippi to hone his skills as a guitar player, returning to Chicago in 1965 with his kid brothers, Nick on bass and Lee Baby on drums. As a leader, Slim came into his own on the club scene, building a reputation that saw him take over
Hound Dog Taylor
's residency at Florence's Club. The Teardrops became a powerful working unit as a live band although their recordings were limited to a couple of singles on the Ja-Wes label, one of which was Slim's song 'Scufflin'.
Slim plays The Zoo Bar in 1982;
In the late 70s, Slim began a recording career that saw him produce the equivalent of an album every year for 36 years. Beginning with 'Born Under a Bad Sign' for the French MCM label, Slim then made a big impression with some tracks for Alligator's 'Living Chicago Blues' series. All those years of building a repertoire on the club scene meant that Slim had hundreds of songs to call on: many were self written but he also put his mark on legions of classic tunes. In 1982 Slim moved to Lincoln Nebraska, where he became a fixture at the Zoo Bar. The following year John Primer, the guitarist in Muddy Waters' band and a graduate of Willie Dixon's Chicago All-Stars, joined The Teardrops after the sad death of Muddy, and he stayed for 13 years. Later Slim's son Shawn Holt added his guitar and singing skills to the band, making The Teardrops a family affair, as Nick was still the regular bass player.
Magic Slim plays 'Hard Luck Blues' at a European Festival in 1995;
Moving into the 21st Century, Slim wasn't so slim anymore, but he continued to show his mastery of the deep 'Chicago groove' that fills clubs all over the place, and he took that sound around the world on the Blues Festival circuit. Slim also continued a steady recorded output for the Wolf and Blind Pig labels and picked up his sixth Handy Award, for 'Best Blues Band of the Year', in 2003. On tour at the end of 2012, Slim's body started to give up on him, and he passed away in the following February.