Big swooping notes blasted out into the studio when Little Walter's harp wailed into his closely held microphone, as the band set up to record Muddy Waters 'Country Boy' on the July 1951 Chess session. That soulful sound cemented in place a big stone in the foundations of modern Chicago Blues. The huge distorted electric sound was more like a horn section than the lyrical tones of the harp that was associated with country Blues and Memphis jug-bands, yet Walter rarely overplayed his part. He preferred to dazzle his audience with an elegant phrase rather than bludgeon them with the power of his 'Mississippi Sax' .

A troublesome twelve-year-old Marion Walter Jacobs ran away from his rural Louisiana home to the streets of New Orleans to play his harp on streetcorners.
Four years later, at the end of WWII, he arrived in Chicago by way of
Memphis
, St. Louis and Helena where he had played on the King Biscuit Radio Show for Rice 'Sonny boy II' Miller. Hanging around Maxwell Street, Walter came to the attention of 
Tampa Red
and
Big Bill Broonzy
, and pretty soon Walter had teamed up with guitarist Jimmy Rogers to record 'I Just Keep Lovin' Her'. His playing was already distinctive, with the
dramatic timing usually associated with the finest jazz soloists. A few years earlier
Sonny Boy Williamson
(the first) had promoted the harp to the front line of Blues instruments, but it was Walter's extraordinary playing that placed it firmly in the spotlight.
The pair joined forces with Muddy Waters and Leroy Foster to build a reputation as an informal outfit known as 'the Headhunters', who would stroll into a club, claim the stage and "cut the head off" whoever had been playing. Muddy signed for Chess records, and first Rogers and then Walter joined him at Chess, becoming part of the legendary house band that made the Chicago sound. When Muddy's band played live they often opened up with a romping instrumental called 'Cat Will Play', and when that number found it's way onto the tail-end of one of Muddy's recording sessions, Leonard Chess decided to release it as a single. Under the new title 'Juke', it was a massive hit.
'Juke' was a massive hit for Little Walter in 1952.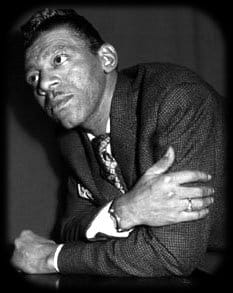 Walter needed no encouragement to strike out for a solo career. He commandeered Junior Wells' band 'The Aces', with Junior taking over playing harp for Muddy's gigs, and hit the road as 'Little Walter and the Jukes'.Leonard Chess shrewdly kept Walter under contract to play on Muddy's records. Between 1955 and 1958, Walter hit the R&B Top Ten fourteen times as a solo artist, with classics like 'Blues with a Feeling', 'Mean Ol' World' and Willie Dixon's 'My Babe'. He wasn't just a harp player either; he had a fine voice; a sharp talent for songwriting and a good ear as an arranger. His virtuoso playing, such as his 1956 free-form instrumental effort with Robert 'Junior' Lockwood, 'Teenage Beat', took harmonica playing to new levels.
Little Walter takes centre-stage on German TV;
In the early 1960's, Blues went into one of it's periodic declines, and alcohol was taking it's toll on Walter too. He was always a spiky character, quick tempered and easily provoked to violence, but his depiction in the 2008 film, 'Cadillac Records' the story of Chess Records, as shooting some guy he caught using his name is probably an exaggeration. However, he constantly fell out with his band over money, became increasingly unreliable at gigs and his face showed the scars of too many bar-room brawls.
Walter's records had made him a big attraction in Europe, where he toured with The Rolling Stones in 1964. His performances didn't live up to expectations and his fiery character won him no friends. He continued gigging in the States and returned to Europe with the Folk/Blues Festival in 1967, appearing with Hound Dog Taylor, but his powers had faded.
Walter died in Chicago in 1968 as the result of a street-fight.