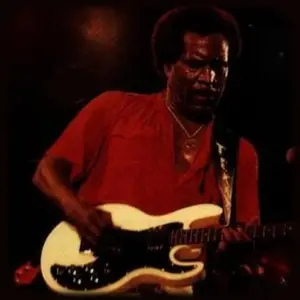 Johnny Copeland had been playing his hard-rocking Texas Blues for thirty years before his Grammy winning collaboration with Albert Collins and Robert Cray on the 'Showdown!' album in 1985. This sent his name around the world, and he journeyed abroad himself to bring back some African rhythms to his own compositions. With a big booming voice and an 'in-your-face' guitar style, Johnny played a big part in the Blues revival of the 80s.
In 1937, Johnny Copeland was born to sharecropping parents in Haynesville Louisiana. Johnny's father died when he was a boy, but he left him a guitar and when the family eventually moved to Houston, Johnny found himself in the same Third Ward neighbourhood as Albert Collins and Johnny 'Guitar' Watson, who would all play a part in moving The Blues forward.
All three young men were heavily influenced by
T-Bone Walker
and they all developed that hard-edged, slashing style that is the signature sound of Texas Blues of that era. In the mid-50s, Johnny began gigging with Joe Hughes and together they formed The Dukes of Rhythm, who played as a backing band for
Big Mama Thornton
,
Rice 'Sonny Boy II' Miller
and
Freddie King
. Johnny could sing and play a lead-guitar break, but he could also play R&B and rock, so he was always able to make a living from his music. He was a pretty good boxer too, and apparently the nickname 'Clyde' dates from his time in the ring. His first solo recording, for the Mercury label in 1958, was 'Rock and Roll Lily' which was a regional hit, and over the next decade he recorded for several smaller labels, scoring another local success with 'Down on Bended Knee'. In the late 60s, Johnny also worked in touring bands behind Soul and R&B legends like Otis Redding and Eddie Floyd.
'Dream' from the "Showdown!" album;
All Johnny's contemporaries had moved to the West Coast by 1975, but he decided to head for New York instead, where his straight-down-the-line Texas style got him work in the clubs. In 1980, he signed for Rounder Records and his debut album 'Copeland Special', showed his powerful voice and dynamic guitar work, winning wide acclaim and a WC Handy Blues Award. Two more Rounder albums and a compilation of his early work were issued before his big breakthrough came with 'Showdown!' in 1985. This collaboration with Robert Cray and his old acquaintance Albert Collins, won more Blues Awards and a Grammy, and its worldwide success made the reputations of all three men. Johnny had been one of the first Blues artists to tour Africa, on behalf of the State Department, and he returned there to cut his next record in Nigeria and Ivory Coast, using African and traditional Blues idioms on a pioneering album, 'Bringing It Back Home'.
Albert jams with Gary Moore at the Montreux Festival;
Further albums and tours kept Johnny busy in the 80s as another Texan, Stevie Ray Vaughan, led a revival of interest in the hard-rocking Blues style. Johnny could also write a Blues song and the lyrics of his compositions bear careful listening as he produced a steady stream of albums, including 'Jungle Swing' where he returned to some African rhythms. Unfortunately, Johnny suffered several minor heart attacks because he did not know that he had inherited a congenital heart problem from his father.
The full extent of the fault was eventually diagnosed, and Johnny had eight heart operations.  In 1995 he had a battery-powered VAD (ventricular assistance device) fitted so he could get back to work. This was an experimental process at the time, and as one of the longest surviving patients, Johnny was often on TV talk shows. A heart transplant was carried out in January 1997, and Johnny had recovered enough to start gigging again when the new heart started giving problems. It finally stopped in a New York hospital in July 1997.