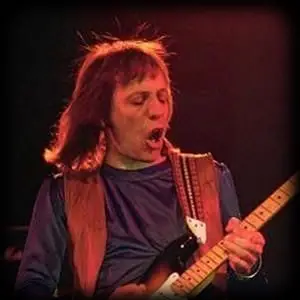 Blues-Rock lost a unique and masterful talent when Jimi Hendrix left us, but one man who picked up the banner and held it high was Robin Trower. He turned down the fuzz-box and cranked up the reverb, but the sounds that Jimi pioneered were championed in the 70s by Robin's power trios, and his work continues in a career that spans over 50 years.
Robin Leonard Trower was born in a south London suburb in 1945, and formed his first band with pianist Gary Brooker in 1962. They played together and separately in various bands until they joined up in Procul Harem in 1967, following the worldwide success of their first single 'Whiter Shade of Pale'.
Robin stayed in the band for their first five albums and several global tours until he left in 1971 to pursue solo projects. His band Jude played some great live gigs that couldn't get them a record deal, but two years later The Robin Trower Band released an album on the Chrysalis label that showed that some serious guitar flash had been hidden under the keyboard-heavy sound of Procul Harem. The follow-up 'Bridge of Sighs' established Robin as a serious heir to Jimi's Blues-rock legacy.With superb, rough-edged vocals from bassist James Dewar and some excellent songwriting from Robin, the guitar work showed sensitivity and soul amongst the pyrotechnics. It was to set the tone for a long career that may not have reached much higher than its early peak, but showed a dedication to the cause that found a loyal and and appreciative audience.
'Bridge of Sighs' performed for British TV in 1974;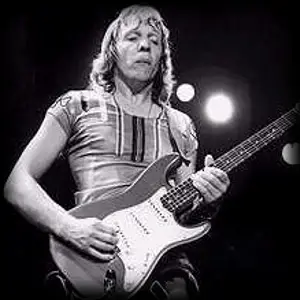 After eight solo albums for Chrysalis, the label issued 'BLT' in 1981, featuring
Jack Bruce
on bass and drummer Bill Lordon.
Two excellent albums resulted from this partnership before Jack left to pursue Latin-Jazz, and Robin re-called James Dewar for the next stage of his career.
The prominence of Blues-rock had slipped a little from its 1970s heyday, but Robin continued his mission to keep the power-trio format alive, but with a more R&B flavour and rather less heavyweight material.
He joined the big 'Night of the Guitars' tour of Europe in 1991, and continued to tour and record into the new Millenium.
Robin celebrates his 60th Birthday in style!
In 2007, Robin cut his 'Seven Moons' album with Jack Bruce and the following year completed yet another world tour. On his 2013 album, 'Roots and Branches' on the V-12 label, Robin visits some fundamental tracks that formed his musical education, with covers of songs made famous by
BB King
,
Albert King
,
Big Mama Thornton
,
Big Boy Crudup
and
Howlin' Wolf
, among others. A lot of people share that heritage with him.