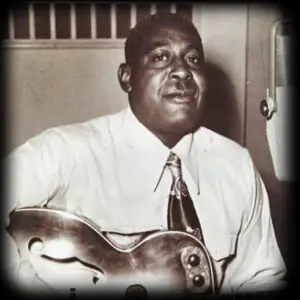 Arthur 'Big Boy' Crudup was a powerful and dynamic singer who wrote, 'That's Alright Mama', the song which demolished the racist idea that music had a colour. His reward was small and late arriving, but Arthur's singing and songwriting talents deserve to be much more than a footnote to the Story of the Blues.

Born and raised in rural Mississippi, Arthur learned to sing in church choirs and gospel groups. He would have heard plenty of field hollers as he worked as an agricultural labourer, and these two sources contributed heavily to Arthur's vocal style. He began to take music more seriously in the mid-30s, when he bought a guitar, but he was never more than an adequate player and it was his singing and songwriting that marked him out for fame, even if it didn't bring him financial reward.
'Mean Ol' Frisco' was the first 'Big Boy' record to make the charts;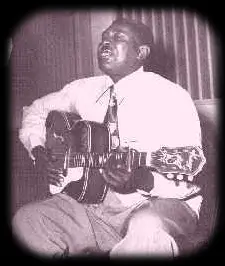 In 1939 Arthur decided to try his luck in Chicago, as had many Mississippians before him, but life was not easy there. He was living rough and playing for change on streetcorners when, in 1941, one of the most powerful Blues producers in the city, Lester Melrose, spotted Arthur singing on the sidewalk and invited him to play at a party at Tampa Red's house. Big Bill Broonzy, Lonnie Johnson and Lil Green were there, and Arthur must have impressed somebody because his records quickly began to appear on RCA's Bluebird label. By the following year Arthur was recording with an electric guitar, often accompanied by slide player Charlie McCoy (Memphis Minnie's brother-in-law) and string bassist Ransom Knowling. His records often appeared in the higher reaches of the charts, with 'Mean old Frisco', 'Rock Me Mama' and 'Whose Been Foolin' You', all selling well. However, Arthur's version of 'That's Alright Mama' was not a national hit when it came out in 1946. It was re-released by RCA Victor in 1949 as their first R&B single on the new 45rpm disc format (in orange vinyl!) but that didn't shift many units either. Arthur had fallen out with Melrose over unpaid royalties in 1947, and although he remained a regular recording artist with RCA Victor until 1954, he also recorded under the names Elmer James (or possibly Elmore Jones) for Trumpet in 1952, and as Percy Crudup for Checker. During the early 50s he was at least making a living from music, touring with Rice 'Sonny Boy II' Miller and Elmore James. When Elvis' version of 'That's Alright Mama' was released in 1954 it was an event that rocked the world of music, quite literally, but did next to nothing for Arthur financially. He went back to Mississippi a disillusioned man, and his mood was not improved when two more of his songs were recorded by Elvis, 'My Baby Left Me' and 'So Glad You're Mine'. These were both B-sides of No.1 singles, and should have brought Arthur a healthy fee too, but the money went elsewhere (probably to Lester Melrose). In 1960, Arthur recorded some versions of his old songs for the Fire label, but his career was not re-kindled. Blues promoter Dick Waterman helped Arthur to gain some royalties for his songs and, in 1968, Bob Koester persuaded him to record again for the Delmark label, producing the album 'Big Boy Meets the Master Blues Bassists' with Willie Dixon and Arthur's old friend Ransom Knowling.
Arthur plays the Blues on his back-porch;
The market for Blues music had expanded in the mid-60s, and as one of the originators, Arthur was in demand on the Festival circuit. His voice and delivery were still strong and he toured widely in the States and Europe, recording the album 'Roebuck Man' in England with local musicians. His songs were recorded by big artists like John Lennon,
BB King
, and Creedence Clearwater, and royalties got paid this time and he featured in a documentary film, 'Born into the Blues' in 1973. Sadly Arthur was not in good health and he died from a heart attack at his adopted home in Virginia in 1974.