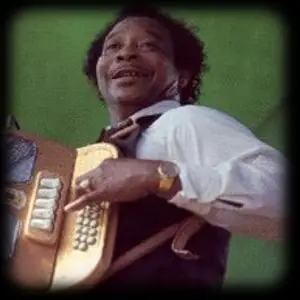 Rockin' Dopsie is the man most responsible for popularising Zydeco in Europe, thrilling audiences with his infectious dance music, infused with a heavy dose of R&B. Dopsie (pronounced "Doopsie") got a big break with his appearance on Paul Simon's 'Graceland' album, and good-selling records of his own on the De la Soul label. He passed on at the relatively early age of 60, but Dopsie founded a dynasty of zydeco-playing sons as well as a legacy of dynamic recordings.
Alton Ruben was born in 1932 into a Creole French speaking family from Carencro LA, and got his start early when his accordion-playing father gave him a small instrument of his own. He didn't give him any lessons though, so Alton acquired his technique from copying music he heard on the radio, but learned to play "upside down and left handed", because that's the way he first picked his accordion up. It proved not to be any kind of handicap because by the late 40s, he was playing gigs as 'Rockin' Dopsie', a name he borrowed from a dancer down from Chicago who performed in Lafayette. Dopsie continued to work a day job while gigging around the region, until
Clifton Chenier
's success with his records and Festival appearances in the late 60s sparked a new interest in zydeco. Bon Tempi and Blues Unlimited were local labels that put out albums by Dopsie and he started playing a lot of gigs and Festivals outside Louisiana. When Clifton took zydeco to Europe, Dopsie was quick to follow.
 This is how an R&B classic sounds, when it's given the Rockin' Dopsie treatment;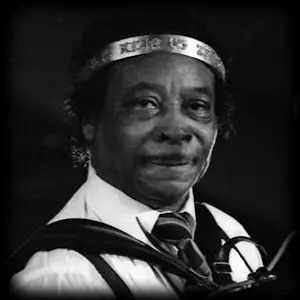 Zydeco is usually sung in Creole, so it was instantly popular when it was heard in France in the 70s. When Dopsie played there,
Sam Charters
, the writer and record producer who had been at the forefront of the Folk/Blues revival of the 60s, got Dopsie a deal with Sonet records in Sweden, and they released 'Doin' the Zydeco' in 1978. This was the start of a five album series that kept Dopsie busy touring Europe twice a year for a good while as his reputation grew at home. When Paul Simon wanted a zydeco band to play on his zillion selling 'Graceland' album in 1985, Dopsie and his Zydeco Twisters stepped up. With his sons on 'frottoir' and drums, this band played zydeco with a fierce energy that made dancing almost compulsory. They put out a couple of brilliant albums on the De la Soul label in the late 80s, and Dopsie's final record 'Louisiana Music' in 1991 explored Dopsie's versions of songs made famous by
Guitar Slim
,
Little Richard
,
Ivory Joe Hunter
and Clifton Chenier himself.
When Dopsie passed away in 1993, Alton Jr. kept The Twisters going, with his brothers 'Tiger' on drums and Anthony on accordion. Their kid brother Dwayne has his own band, The Zydeco Hell-raisers, and so the high energy madness that Dopsie loved so much is living on in his legacy of superb records and exciting live bands.