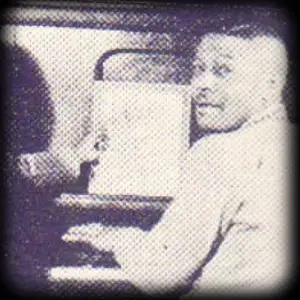 Robert McCoy was an Alabama pianist who was active on the Birmingham Blues scene for over four decades from the mid 30s. He is easily confused with Robert Lee McCullum, who used the name McCoy while playing slide-guitar in St. Louis before moving on to Chicago to find fame as Robert Nighthawk. He is unrelated to Charlie McCoy, the Mississippi guitarist and leader of The Harlem Hamfats, or his brother Kansas Joe McCoy who was married for a while to Memphis Minnie.
This Robert McCoy was born in Aliceville Al. around 1909 but raised in the State capital Birmingham, a city Robert rarely left, it appears. Robert did have two older brothers who encouraged his efforts on piano, and while he was still a teenager Robert was being hired to play at parties and dances. He could play the complex tunes made popular by
Leroy Carr
and
Pinetop Smith
, and his skills brought him to the attention of various artists who invited him to play at their recording sessions in Birmingham. He played on records by
'Jaybird' Coleman
, Charlie Campbell and his Red Peppers, James Sherrill who was billed on his discs as 'Peanut the Kidnapper', and George Bedford, who was going by the name of 'Guitar Slim' in 1937, a name later appropriated by
Eddie Jones
. Robert supported his family with a series of day-jobs outside music during the 30s, 40s and 50s, playing at weekends and parties, but with no thought of a bigger career.
 Robert plays 'Louise, Louise' from the 1963 sessions;
In 1962, a young white man called Patrick Cather braved the South's strict Jim Crow laws during a period of intense racial conflict by befriending Robert, a black man in his sixties, with the idea of recording his music. Pat started the Vulcan label to release 10 tracks of Robert's playing and singing, and the results on their debut album 'Barrel-house Blues and Jook Piano' were so impressive they recorded again the following year. 'Blues and Boogie Classics' saw Robert interpreting the music of his heroes Leroy and Pinetop, alongside tunes by
Jimmy Yancey
,
Speckled Red
,
Cow Cow Davenport
and
Meade Lux Lewis
. Neither album sold in big numbers, but the playing on them was superb. Also in 1964, Robert released two singles on the Soul-O label as Robert McCoy and his Five Sins, with guitar, bass, drums and trumpet. Although Robert's career never really got going, he recorded several more times in Birmingham in the 60s, sometimes accompanied by drummer Clarence Curry. None of these recordings were issued until
Bob Koester
of Delmark Records acquired the masters from Vulcan and released them as 'Bye-Bye Baby' in 2002. Robert had been dead for 25 years by then, but if you listen to the superb piano Blues on those tracks, you'll agree that he was the 'Real McCoy'.