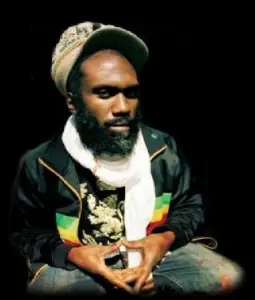 Singing and playing exquisite slide-guitar like a Delta original, Corey Harris has spent his career linking up with the music that contributed to the origins of the Blues. Starting with a love of the Blues that he shares with countless millions, he took a singular path that took him back to Africa via the side roads of the South and around the roots of American music, through New Orleans and out into the Caribbean. Each step of the way, he brought us the treasures and knowledge he had gained and so he has enriched us all.
Corey was born in Denver CO in 1969, and fell in love with the Blues listening to his mother's record collection. He sang in Church, learned guitar from the age of 12, and played in a local rock band before leaving for Bates College in Lewiston, Maine.

He majored in anthropology and as a postgraduate student, spent some time in Cameroon studying linguistics and soaking up West African culture, especially the music. Returning to The States, Corey taught in a Louisiana school and played his Blues in the clubs and bars of New Orleans, which brought him to the attention of
Alligator Records
. His 1995 album 'Between Midnight and Day', saw him covering tracks by
Charley Patton
,
Muddy Waters
and
Bukka White
, and several of his own songs, with a gospel flavoured voice and slide-guitar or fingerpicking style that showed he had listened well at his mother's knee, so to speak.
Son House's autobiographical 'Preacher Blues';
By 1997, Corey had opened for BB King, appeared on Junior Wells' 'Come On In the House' album, and cut his own second album 'Fish Ain't Bitin' ', where he composed more than half of the 17 tracks. Corey was in great demand as a live act, and his next recording project was a collaboration with Billy Bragg and Wilco, where they revisited some unfinished Woody Guthrie songs, and released the results as 'Mermaid Avenue'. 1999 saw the release of 'Greens from the Garden', which established Corey as a major Blues artist. With veteran pianist Henry Butler on board, Corey explored a wide range of influences that have seeped into modern American music. Latin rhythms meet Cajun songs, Caribbean beats, New Orleans funk and one of those Woody Guthrie numbers, all held together by a strong central theme of Blues guitar. Corey repaid the compliment to Henry by sharing his 'Vu-Du Mans' album the following year.
Corey and Henry Butler play some rockin' Blues;
When Corey departed the Alligator label for Rounder in 2002, his electric 5X5 band rocked like a juke-joint on a Saturday night on 'Downhome Sophisticate' but still incorporated plenty of cultural diversity into its tracks. In the same year, Corey contributed to Martin Scorsese's TV series 'The Blues', examining the roots of Delta Blues in West Africa. He travelled to the hometown of Ali Farka Toure in Mali, where footage of the two men playing together made the links between their musical heritage crystal clear, and provided the inspiration for Corey's next project. 'Mississippi to Mali' is a masterful musical essay, recorded half at Ali Farka's house with accompanying njarka and calabash, and half back in the Delta, with the Blues harp of Bobby Rush and other players. When Ali Farka weaves his one-string njarka around the melody of Skip James's 'Special Rider Blues', a special magic opens up the link between the 'savannah syncopators' of West Africa and the 'plantation melodies' of the early Delta Blues. The album is dedicated to Otha Turner who had planned to contribute his Fife and Drum music to the mix, but his unfortunate death left a space for his talented 12-year-old grandaughter Shardé to play instead, an elegant eulogy from her family and a worthy tribute to his music.
Corey and Ali Farka Toure swop phrases in the language of music;
Extending his dedication to diversity, Corey has contributed to a Johnny Cash Tribute album, then began to introduce Caribbean influences to his work on the 'Daily Bread' album. He continued this theme with his band The Rasta Blues Experience, on the 'Zion Crossroads' and 'blu-blak' albums as his quest, gathering up the strands of musical inspiration that contribute to modern Blues, moves ever forward. Nobody knows, probably Corey least of all, where the next road will lead, but more compelling music will surely result.