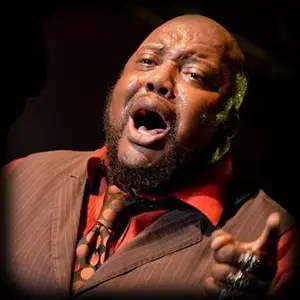 Sugaray Rayford has been the featured vocalist of the Award-winning Mannish Boys for several years now, and they have again been nominated for three Blues Music Awards in 2015. However Sugaray is the frontman for his own band, and he has also been nominated as Best Traditional Male Artist and as BB King Entertainer of the Year. With a voice that can sound as sweet as Junior Wells and a frame that looks like Howlin' Wolf, Sugaray is a young man who is taking the Blues forward into the future from a viewpoint of knowing how deep its roots are buried in the past.
Caron Rayford was born in Texas and was singing in The Bethel Temple in Tyler when he was barely seven years old. He and his brothers needed a lot of support when his Mom was dying from cancer, and their Grandmother, the Blues and the Church helped them get through. Determined to make it as a singer, in the late 90s Sugaray was the frontman for San Diego-based funk outfit Urban Gypsies, and in the new Century he moved up the road to join Aunt Katyz Boyz, who played a more bluesy repertoire. Filling out his 6'5" frame, Sugaray's voice matured into smoothly soulful Blues roar, as The Boyz gigged most nights of the week. In 2006, with their act suitably sharpened, they took 2
nd
Prize in the International Blues Challenge in
Memphis
as Sugaray's vocal skill and command of the stage got them better gigs and an album, 'Tight Like That'. Settling in Los Angeles, Sugaray hosted a Blues Jam at Cosy's, where he got to sit in with some amazing musicians and expanded his horizons. In 2010, Sugaray self-published his solo album 'Blind Alley' with a couple of his own songs mixed in with covers of
Son House
,
Blind Willie Johnson
and Al Kooper tracks, and a stunning Gospel number 'I've Got to Move', dedicated to his Mom.
Sugaray sings Son House's 'Death Letter' at a Polish Festival;
In 2011, The Mannish Boys came calling, and this showcase band for the best in
West-coast Blues
has become a Festival favourite, maybe because they don't play vast numbers of gigs. Sugaray fitted right in and their first album together, 'Double Dynamite' had 26 tracks, and a huge roster of guest artists and it won the Traditional Blues Album Award for 2013. Balancing his rôle as The Mannish Boys featured vocalist with leading his own band, alongside the outstanding guitarist Gino Matteo, Sugaray also found time for other projects like appearing in the Tony Award-winning play 'Ain't Nuthin' but the Blues', touring as a guest of several other artists and working on film and TV themes. His 2013 album, 'Dangerous' on Delta Groove Records shows Sugaray's talents in many different genres, from Soul-Blues, Chicago Classic, laid-back 'T-Bone style' and up-tempo shuffles, and most are self-written, showing his growing confidence as an artist. Without a guitar or piano to hide behind, Sugaray is a performer who knows he has to impress you with his song, and the story of the Blues he carries with him in his heart gives him the voice to do it.