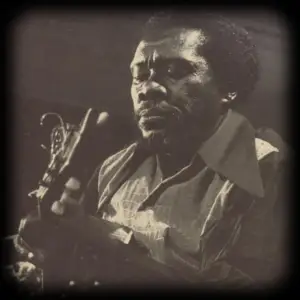 Joe Willie Wilkins was born to the Blues. His Daddy, Papa Frank Wilkins, was a friend of Charley Patton and he played guitar himself, so it was inevitable that the young kid was going to play too. Although mainly famous for a long career as a side-man who played on many great Blues records in the studios of Memphis and Chicago, Joe Willie was an innovative guitarist in his own right. His articulate, single-string riffing and well-balanced but soulful solo work influenced many later Blues superstars.
Born in Davenport MS in 1923, Joe Willie grew up on a Delta plantation surrounded by Blues music. He learned guitar, harp and accordion as a kid and learned to copy hundreds of songs by ear, from listening to records as well as from hanging around juke-joints. This talent earned Joe Willie the nick-name 'The Human Seeberg', after an early make of juke-box. When he was 18, he relocated to Helena AK to join
Rice 'Sonny Boy II' Miller
as a guitarist on his daily King Biscuit Time radio show, and as part of his gigging band alongside pianist
Willie Love
.
Robert Jr. Lockwood
was playing guitar regularly with Sonny Boy II at the time and like him, Joe Willie adopted a jazzy single-string style. When Robert Jr. left for Chicago, Joe Willie stepped up to be Sonny Boy II's go-to guitarist, making several records with the boss and broadcasting alongside guests like
Robert Nighthawk
,
Elmore James
,
Houston Stackhouse
and
Howlin' Wolf
.
BB King
got his big break on Sonny Boy II's radio show in in 1948, and his later playing shows elements of Joe Willie's style. The great
Muddy Waters
also noted Joe Willie's use of 'Delta' riffs without using a slide as an influential move.
Joe Willie adds some flourishes to Houston Stackhouse's version of Tommy Johnson's 'Cool Drink of Water';
In 1950, Joe Willie joined Willie Love and Willie Nix in The Three Aces, often billed as The Four Aces when Sonny Boy II sat in. They got a regular radio gig in West Memphis, and this led to session work for
Sam Phillips
across the river, and several tracks released by Sun Records under Willie Nix's name. Joe Willie got further session work for Trumpet Records in Jackson MS,
Chess Records
in Chicago and just about every other studio in the Windy City over the next decade or so.
'Big Boy' Crudup
,
Elmore James
,
'Shakey' Horton
,
Memphis Slim
,
'Honeyboy' Edwards
,
Roosevelt Sykes
,
Big Joe Williams
and hordes of others had their records enhanced by Joe Willie's tasteful playing. Joe Willie's most enduring partnership was with Houston Stackhouse, and for years the two men shared a house in Memphis. They toured the clubs and Festivals together and performed as part of the Memphis Blues Caravan, which paid tribute to their years with Sonny Boy II. In 1973, Joe Willie played with
Charley Booker
at his final appearance, at a Blues Festival in South Bend, Indiana, and despite his own health problems, he continued to play around his hometown until he passed away in 1979.