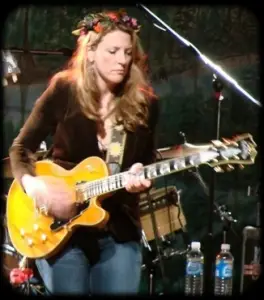 Susan Tedeschi was destined for a career in music. She was on the Broadway stage as a six-year-old and preferred Baptist churches to her Italian family's Catholic kind, because the singing was more fun! Susan started her first band at 13 and when she was 18, she formed Smoking Section to perform original material before attending Berklee Music College. Having grown up listening to her father's Blues albums, Susan began sitting in on Blues jams in the Boston area. The Susan Tedeschi Band, formed in 1994, saw her honing her vocal and guitar skills and when their album 'Just Won't Burn' was released in 1998, it would eventually sell half a million copies. Meanwhile the band was opening for BB King, Buddy Guy, The Allman Brothers and Taj Mahal. In 2001, Susan married Derek Trucks, a talented slide-guitarist with his own successful band, who was also a member of the Allman Brothers and they have two children together. Susan's band opened the Rolling Stones 2003 US tour and they released a superb live album the next year.

Susan and Derek warm up backstage at The White House;
Susan and Derek combined elements of both of their bands as 'Soul Stew Revival' which showed her powerful voice and his scorching slide-guitar backed by a horn section. After touring and recording with their respective bands and with Soul Stew, and in Derek's case The Allmans too, the couple put all those projects on the shelf to concentrate on The Tedeschi Trucks Band, an 11-piece group formed from combining their resources. The resulting album, 'Revelator' released in 2011, was recorded in Jacksonville at their home studio, and it took the Grammy for Best Blues Album. A live album, 'Everybody's Talking' was issued in May 2012, containing some of the 'Revelator' songs mixed with some classics, and showing the modern face of the Blues.