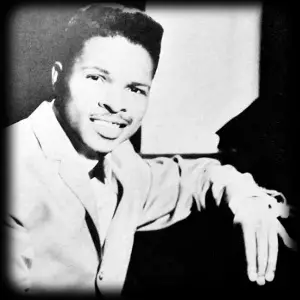 Tommy Tucker is a nursery-rhyme name that has popped up several times in musical history, from rappers to Swing Band leaders, but it was also the name of a gravel-voiced R&B singer from the 60s. With deep roots in jump-Blues himself, Tommy played organ and piano on his great, boozy party records, and he is immortalised as the composer of the classic song, 'High Heeled Sneakers'.
In 1933, Robert Higginbottom was born in Springfield, Ohio and as a kid his parents sent him to piano lessons. This led to him joining Bobby Woods Band as a teenager in the late 40s, playing piano and sax-heavy jump-Blues, but when harmony vocal groups began to feature on local juke-boxes, they changed their name to The Cavaliers and Robert found his voice. Around 1960, Robert relocated to Newark NJ with guitarist Weldon Young and bassist Brenda Jones, and they performed as a trio before splitting: they had a hit record 'Hey Dean', billed as Dean & Jean, and Robert got a solo deal. His soul-inflected 'Rock'n'Roll Machine' was released under the name "Tee Tucker", but this quickly morphed into his better known stage-name. His talents were spotted by Herb Abramson, who was working as a freelance producer after his years with Atlantic Records, and their first collaboration was Tommy's song 'High Heeled Sneakers', which Herb leased to
Leonard Chess
. The record hit the pop charts on both sides of the Atlantic in 1964, leading to an extended visit to Europe as part of a seemingly endless touring schedule, and the follow-up in the same groove, 'Long Tall Shorty' was also a hit, although not quite of the same magnitude.
The original version of Tommy's big hit;
Tommy continued to work with Herb for over a decade, cutting some great records like 'Alimony' and a soulful version of 'That's Life' that
Ray Charles
would have struggled to better, and he co-wrote 'My Girl (Really Love Her So)' with
Ahmet Ertegun
. Sadly, none of this could get Tommy another big hit, despite his records being produced by
Willie Dixon
and featuring side-men like
'Shakey' Horton
and
Louisiana Red
, and an excursion into Johnny Cash-style rockabilly didn't work either. In the early 70s, Tommy put his music career on the back burner, working in real estate and as a writer, and he passed away as the result of a domestic accident when he was just 48 years old.