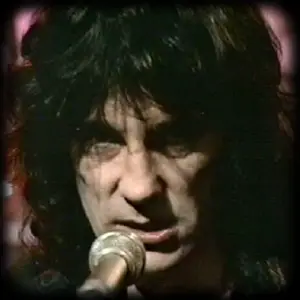 All kind of music gushed from the well-spring of the Blues when British kids got hold of it in the early 60s. Starting off playing the songs of Willie Dixon and Jimmy Reed, young guys with guitars and drums picked up the beat and sang about their own lives, and few sang with more drama and passion than the demented genius that was The Sensational Alex Harvey.
Alexander James Harvey was born in Glasgow, Scotland in 1935, in a working-class neighbourhood where hard drinking and weekend partying were the norm.
There were many pubs where music was played and Alex was in a skiffle group when he was a teenager playing acoustic Folk and Blues songs. Determined to make it as a musician, he formed his Soul Band in 1958, which toured all over Britain and in the early 60s, spent a lot of time in Germany playing residencies in the same clubs as
Long John Baldry
,
Stan Webb
and The Beatles. The 'Soul' of their name owed more to Alex's full-blooded commitment to his music than anything James Brown would recognise, as they pounded out their R&B covers. While on tour in Germany in December 1963, Alex recorded a live session in a Hamburg club with a scratch band, including 'Got My Mojo Workin', '
Bo Diddley
's a Gunslinger', 'Backwater Blues' and' I Just Wanna Make Love to You', and back in London he got it released by Polydor Records.
The record deal was for three albums, but the company were not happy with the 20 tracks of electric Blues that Alex turned in next, as they wanted something more 'pop' like 'The Fab Four'. Alex was enjoying the British Blues Boom, playing at the hundreds of clubs that had sprung up in every town and city, so he dug his heels in and presented them with 'The Blues', an acoustic album he recorded with his brother Les on guitar, including 'Honey Bee', 'St. James's Infirmary' and their version of 'Strange Fruit'. This track was dark and dramatic, like the theatrical numbers that Alex would take into the charts in the 70s.
Without a record deal, Alex moved with the times by forming a psychedelic band called Big Moth, but were dismissed as having 'no commercial potential', so he joined the pit-band for the West End musical presentation of 'Hair'. He stayed for several years and led the band in the cast-recording album 'Hair Rave-Up', which cheekily included some of Alex's own numbers that weren't in the show.
If you've never seen Alex, PLEASE watch this. (If you have, then you wont need asking twice.)  'Framed', live in 1974.

When Alex's brother Les, guitarist in Scottish Blues Band 'Stone the Crows', was killed onstage by an un-earthed microphone, Alex decided "life's too short to waste", and recruited Glasgow band Tear Gas for a new project. By 1972, acts like David Bowie and Alice Cooper were introducing theatricality and glamour into their Rock acts, and Alex lustily embraced the idea with The Sensational Alex Harvey Band. This loud, good-time rock band, with their weird costumes and sinister characterisations, guaranteed a good night out wherever they played in Britain and Europe, but didn't do so well in The States. Except for a hard-core of fans, especially in Cleveland, America didn't take to Alex, with his broad Scottish accent and his big hit record about an Army brothel, 'Next!' A double album of their American tour in 1974 caught the band in great form and sold well over the pond, but passed under the radar in the USA.
Alex's biggest hit was the dark, dramatic tango, 'Next';
Alex left the band to go solo in 1976, but they just carried on as 'The Sensational Alex Harvey Band … Without Alex' until he came back a couple of years later. They recorded the 'Rock Drill' album, but the band got drowned in a tidal wave of punk music and gradually dissolved. Alex continued to tour as a solo artist but passed away in Belgium while on the road in 1982, on the eve of his 47
th
birthday. Those 20 tracks of R&B Alex put down in 1964 were released posthumously and a photo biography 'Last of the Teenage Idols' was published to celebrate his 30
th
Anniversary in 2012.