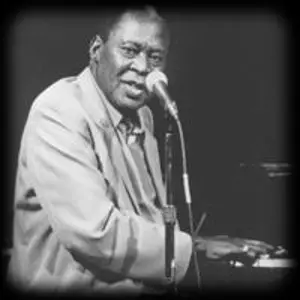 Barrel-house and Boogie-woogie pianists don't come much bigger than Memphis Slim. Standing six-six with a distinctive streak of white hair, this handsome and urbane figure knew how to cut a dash. His command of the 88s and his clear articulate vocals gave him an unmistakable musical style too, which he used to great effect in Memphis, Chicago and Paris, where he lived from the early 60s onwards. In repect of his contribution to culture, Slim was first Honoured by the French Government and then appointed 'Ambassador of the Blues' by the Government of the United States.

John Chatman was born in Memphis in 1915 where his father, Peter, was a Baptist deacon who also liked the 'Devil's Music'. Their house was next to a honky-tonk bar and the sounds of nearby piano and the music of
Bessie Smith
and
Lonnie Johnson
on his grandmother's Victrola urged the youngster to find his way around the keyboard of the family piano. Among John's greatest influences were the records of
Roosevelt Sykes
and soon he could imitate his voice and piano style. This talent was soon put to use playing the bars around 21st Street, so when the teenager got 'itchy feet', hoboing around the South, 'riding the blinds' on freight trains between towns, he knew he could pick up a couple of dollars playing in any local bar. After a spell in Helena AK, he moved to Chicago in 1939 and cut a few tracks for Okeh using his father's name, Peter Chatman.
Slim plays one of his most famous songs, 'Every Day I Have the Blues';
'Memphis Slim' made his recording debut for Bluebird in 1940 with his trademark song 'Beer-Drinking Woman'. Soon Slim hooked up with  Big Bill Broonzy and they had four great years together during which Slim took Big Bill's advice to try and sound less like Roosevelt Sykes and more like himself. The point was well made and in 1944 Slim recruited two saxes and a bass to form his hard-driving band, The House-Rockers. This combo recorded some outstanding tracks including 'Nobody Loves Me', which became better known as 'Every Day I Have the Blues'. The band recorded for many labels, including Miracle, Peacock, Chess and Mercury over the next few years and he put down his most successful US track, 'Mother Earth' for Premium in 1950. By 1952 Slim had moved to United Records and for the first time he recruited a guitar player into the band, the young Matt 'Guitar' Murphy. "He was such a damn genius, man, I had to use him!", Slim commented later. Matt proved his worth with a decade of stellar performances, perhaps best illustrated on tunes like 'Sassy Mae' and the 1959 album 'Memphis Slim at The Gate of Horn'. The same year, Slim played Carnegie Hall and the Newport Folk Festival.
Slim toured Europe with the Folk/Blues Festival in 1960, and recorded in London with Alexis Korner. The enthusiasm of the Europeans' response to his music, their cosmopolitan society and the seemingly endless possibilities for gigs, recording and TV appearances led Slim to relocate to Paris in 1962. He toured around Europe with a show called 'The Story of the Blues', where he would play tunes to illustrate the history of the Blues and commentate between songs with a professorial authority. He recorded several albums with Willie Dixon in Paris and cut a double album, 'Old Times, New Times', which coupled an affectionate set with his old muse Roosevelt Sykes and a second session with the young gun Buddy Guy and his band. Slim did not desert the States, performing there regularly and recording Memphis Heat with Canned Heat in 1974, but most of his recording and touring activities were centred in Europe.
One of Slim's last appearances at a London Club;
In recognition of his 20-year long contribution to the cultural life of Paris, the French Government made Slim a 'Commander of the Order of Arts and Letters'. Not to be outdone, the US Senate named him 'Ambassador-at-Large of Goodwill', making Slim one of the most decorated boogie-woogie men of all time! As his health began to decline, Slim cut back his commitments. Despite having suffered a stroke a few months previously, he recorded a memorable set at Ronnie Scotts Club in London in 1986, with Paul Jones guesting on harp. Slim died in Paris on February 24th 1988 and is buried in the town that gave him his name, Memphis Tennessee.