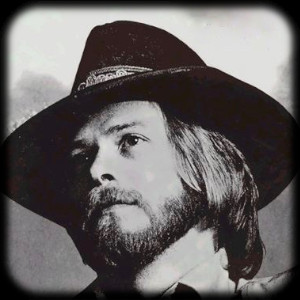 In the early 60s, Chicago Blues was a source of inspiration for a generation of young players in the UK who were looking for a way of expressing their frustration with a dull and restrictive post-WWII society.
When they heard Muddy Waters' moan, Elmore James' searing guitar, and Jimmy Reed's simple but powerful songs, the elements were in place to forge an entirely new kind of music.
Among the pathfinders of this youthful revolution was a huge, confident figure standing at the centre of the stage.
The dynamic and big-hearted Long John Baldry was one of the small group of men who acted as important catalysts for others to express themselves, and his long recording career included a chart-topping single of his own.
John William Baldry was born in Haddon, England in 1941. He sang and played 12-string guitar on the folk club scene as a teenager, adopting the 'Long John' tag as he grew to 6ft.7ins, and as his voice deepened he included more Blues in his repertoire.
Alexis Korner recruited him to sing in his new band Blues Incorporated, and when The Ealing Club opened in March 1962, Long John became a fixture on the stage.
He sang on the groundbreaking 'R&B at the Marquee' album and after a solo tour of Germany, joined the Cyril Davies All-Stars, with Jimmy Page on guitar.
When Cyril died suddenly, Long John formed The Hoochie-Coochie Men with the young Rod Stewart, who John apparently spotted busking on Twickenham Station, and they took up a residency at the Marquee as the British Blues Boom was in full swing.
Steampacket rock out, with Long John, Rod Stewart and Julie Driscoll
In 1965, Rod and Long John formed their band Steampacket, a multi-vocalist revue which lasted just over a year, then John and sax player Elton Dean formed Bluesology with Reg Dwight on keyboards.
Long John was 'Gay and Proud' but young Reg was unsure about 'coming out', as active homosexuality was a Criminal Offence in those days in the UK.
Reassured that it was OK for one's sexuality to be an 'open secret' on the club scene, Reg later changed his name in recognition of his mentors and went on to a solo career as 'Elton John', and 'Someone Saved My Life Tonight' is dedicated to Long John. A solo career beckoned for Long John too, and in 1967 he hit the top of the UK pop charts with the ballad 'Let the Heartaches Begin'.
Recommended Album
This remastered version of Long John's best album has contributions from Rod, Elton, Ronnie Wood and Micky Waller. Bonus tracks include a version of 'Love in Vain'.
In 1971 he cut his most successful album 'It Ain't Easy', with contributions from Rod and Elton, and it featured in the US album charts. Further albums did not fare so well, and in the mid-70s, John suffered with some mental health issues that saw him hospitalised for two years.
When he returned to the studio in 1979, the 'Baldry's Out' album announced his public 'coming out' as well as referencing his release from the institution. By then Long John was living in The States, eventually moving to Vancouver where he took Canadian citizenship.
Long John, Kathi MacDonald and 'Insane Asylum';
This was a very productive time for Long John, with many albums and countless gigs, usually sharing vocals with Kathi MacDonald. His mellifluous English bass tones meant he was offered a lot of voice-over work, including voice parts in the Star Wars, Robocop and Conan movies, TV cartoons and many video games, including the evil Dr. Robotnic in 'Sonic'.
Long John loved the centre of the stage and his award-winning 1997 album 'Right to Sing the Blues' was his 20th solo album. He appeared at the 2005 Montreal Blues Festival, shortly before he passed away in Vancouver.