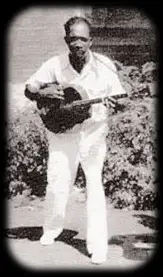 Charlie Burse was a wild-living, hard-drinking, bad-tempered man whose redeeming feature was an extraordinary skill on guitar, banjo, mandolin and ukelele, the latter giving rise to his stage-name, the 'Uke Kid'. It was his good fortune to meet up with the level-headed, business-minded multi-instrumentalist Will Shade, who managed and played with his Memphis Jug Band. Will overlooked Charlie's personality defects and the two unlikely friends went on to play together for almost 40 years.
Born in Decatur AL in 1901, Charlie learned to play guitar and banjo before moving to
Memphis
in 1928.
Will Shade
had brought the Jug Band sound from Nashville a couple of years earlier, and Charlie's versatile skills were a valuable addition to the ever-changing roster of the band, which at various times included
Memphis Minnie
,
Kansas Joe McCoy
,
'Shakey' Horton
and
Furry Lewis
. Charlie could also keep the beat with the spoons and he had a fine, strong voice, but he is best remembered as the ukelele player with the group. Their blend of good-time 'hokum' Blues, ragtime and jazz tunes made them a popular live act, and they cut more than 60 tracks for the Victor label in a five-year career. By the mid-30s, Jug Bands were becoming a little old-fashioned, so Will broke up the group although he kept on playing around Beale Street with the 'Uke Kid'.
The Memphis Mudcats and Charlie in fine voice;
In 1939, Charlie formed his own band, The Memphis Mudcats, which did a lot of Jug Band material, but featured sax instead of harp and string-bass rather than a jug, so it sounded more urban and modern. They recorded for Vocalion Records, and their version of 'Bottle Up and Go' became a classic, although their 'hokum' tunes like 'Weed Smokin' Woman' and 'Good Potatoes on the Hill' also sold well. When this venture ran out of steam in WWII, Charlie went back to playing on the street and at parties with Will. They were 're-discovered' there by
Sam Charters
in 1956 and recorded again together, and with various incarnations of the old Jug Band. The best of these albums, the riotous 'Beale Street Mess Around' with a cast of veterans, was not released until 1975, ten years after the 'Uke Kid' had passed away.