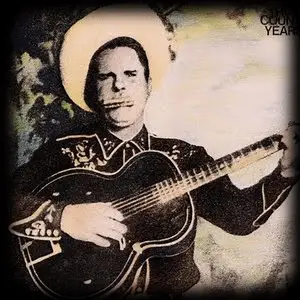 Blues music sometimes reveals strange characters with extraordinary skills, but few were more talented than 'Harmonica Frank' Floyd. When Rice 'Sonny Boy II' Miller amazed world audiences in the 60s by playing a Blues tune on a harp stuck in his mouth like a cigar, he was pulling one third of a trick regularly performed by Frank, who would do that while playing guitar and singing his endlessly entertaining and witty songs at the same time!
Lafayette County is hill country to the east of the Mississippi Delta, and Frank Floyd was born there, in Toccapola in 1908. Frank's parents were a poor white couple who both died when he was very young, leaving him with his sharecropping grandparents, and when they died too, the teenager was left to live on his wits. He had learned to play harmonica at the age of 10, so he took up guitar and began performing as a one-man band. Frank could hold a harp in his mouth without a neck-brace, managing to sing out of the side of his mouth and, like
Noah Lewis
who played harp with
Gus Cannon
's jug-band in
Memphis
, he could also play two harps at once, snorting one tune while blowing another. He was an effortless mimic and animal impersonator with a wide repertoire of Country tunes, ballads and Blues songs, and when he wasn't playing on streetcorners he joined a Medicine Show which toured all over the South. Too young to have caught the interest of the wave of field-units who came south to record the
earliest Bluesmen
, Frank's sheer entertainment value got him some gigs on radio in the 30s. He travelled all over The States and down into Mexico, living the life of a 'wandering songster', picking up gigs and radio spots as he went.
Frank sings 'Rockin' Chair Daddy' with a harp in his mouth!
At the age of 42, Frank finally got to make some records of his fine and funny compositions at
Sam Phillips
' Memphis Recording Services in 1951. Sam leased the tapes to
Chess Records
, and Frank's first three records were released on the famous blue and white label. When Sam started Sun Records, a couple of Frank's tracks were among his first releases, including 'The Great Medical Menagerist' from his medicine show days. In 1957, Frank and his friend Larry Kennon formed the F+L label which issued several duets and solo efforts, but somebody "stole the label" and left them broke.
After a further 17 years, Frank was recorded by George Paulus in
Chicago
for the Barrelhouse label, putting down 16 tracks on his 'Blues that Made the Rooster Dance' album. Frank had also recorded several sessions for Steve LaVere over the previous couple of years, resulting in a self-named album on Adelphi label, and a further album 'The Great Menagerist' was released many years later. A live album recorded in 1979 at Bartlett High School in Memphis later appeared as 'The Missing Link', but by then Frank's health was failing. He lost a leg to diabetes, and passed away in Blanchester, Ohio in 1984.