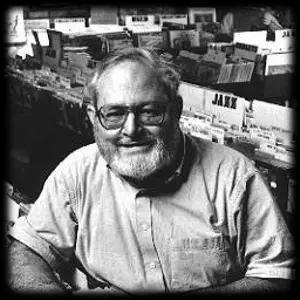 Bob Koester set up Delmark Records over sixty years ago, and his Jazz Record Mart in Chicago is the biggest Jazz and Blues record store in the world. A music lover and collector of classic Jazz and Blues records from an early age, Bob's labour of love became a thriving business as he progressed from trading secondhand discs as a student, to opening a record store. Then when his own record label took off, his consummate good taste led to his recording some genuine Blues legends. As a mentor, Bob has been a big influence on some movers and shakers in the business, who pay tribute to a man with Blues in his blood.
Born in Wichita Kansas in 1932, Bob loved to hear swing bands on the radio as a kid, and as a teenager went to gigs by Lionel Hampton and
Lonnie Johnson
. When he went to College in St. Louis, Bob began trading records among his friends, noting some interesting combinations like
Louis Armstrong
playing with
Bessie Smith
and
Ida Cox
singing with Coleman Hawkins. With another fan, Ron Fister, Bob set up K&F Records, which then became The Blue Note Record Shop, but when they split up, Bob moved his half of the business to Delmar Street. Twenty-one-year old Bob started out recording traditional jazz bands, but Delmar Records, also sought out
Big Joe Williams
,
Speckled Red
and other Blues legends still playing in the St. Louis clubs. The Delmar
k
label hit trouble after producing a lot of 10″ albums, and when the industry changed to a 12″ format overnight, Bob made a virtue of adversity by buying up a lot of his competitors 10″ stock cheaply, and selling it in the retail arm of his business that he always ran in parallel with the record label. Latching on to the idea of buying up master tapes of unissued material, Bob bought up tapes from United, Apollo, and Regal, the latter bringing with it the Parkway recordings first made by
Muddy Waters
and
Little Walter
.
Relocating from St. Louis, Bob arrived in Chicago in 1958 intent on setting up a record store, recording the local talent and buying up interesting masters when he could. His first employee was Bruce Iglauer, who learned a lot about making and selling records from Bob. When Bruce couldn't persuade his boss to record Hound Dog Taylor in 1971 (Bob was short of cash after financing the move to a bigger store), he left to set up Alligator Records to do the job himself, and went on to great success. Chuck Nessa of Jazz imprint Nessa Records; Michael Frank of Earwig; Jim O'Neal of Rooster Records; the late Bruce Kaplan of Flying Fish, and Amy Van Singel of Living Blues Magazine all got invaluable experience from working closely with Bob at Delmark.
When Delmark Records started out in Chicago, Bob's evident enthusiasm for the music led to friendships with many artists like Magic Sam, who was unknown at the time, and Junior Wells whose 'HooDoo Man Blues' was Delmark's best selling record.
Jazz artists like Bud Powell, George Lewis and Donald Byrd featured on Delmark and Bob did not look at the commercial bottom line if he thought a Jazz or Blues player deserved a chance, but he also issued records by big hitters like
Buddy Guy
,
JB Hutto
,
Robert Nighthawk
,
Luther Allison
,
Otis Rush
and dozens of others. His selective purchases of 'old masters' led to important releases by
Sleepy John Estes
,
Yank Rachell
,
Roosevelt Sykes
and many more. As a contemporary label, Delmark continues to seek out Chicago Jazz and Blues artists sixty years after those first recordings in St. Louis, and the Jazz Record Mart is a vinyl junkie's heaven.
On May 12th 2021, following a stroke, Bob passed away while in hospice care