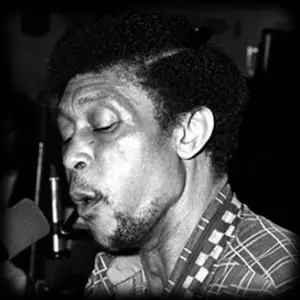 Brewer Phillips is best remembered as a driving force behind Hound Dog Taylor's Houserockers. Alongside his loud long-time drumming partner Ted Harvey, Brewer would keep a bass-line pounding on his guitar using a thumb-pick, while using his fingers to strum the heavy juke-joint boogies of his native Mississippi hill country. This potent rhythm section allowed Hound Dog to wail his slide guitar over this insanely insistent beat, and Brewer would sometimes contribute his shimmering single-string lead guitar lines to the mix too. After Hound Dog's demise, Brewer continued to back other Chicago artists and issued a rare solo album when he was almost 60 years old.
Born in Coila MS in 1924, Brewer was a childhood friend of
Eddie 'Playboy' Taylor
whose guitar work was to become the rock on which
Jimmy Reed
's career rested. Both kids recognised the value of the heavy boogie beats coming out of the juke-joints all around the area. When Brewer moved to
Memphis
in the mid-50s, he did some session work with
Memphis Minnie
and
Roosevelt Sykes
before joining Bill Harvey's band. Brewer lived the life of a working musician throughout the 60s and joined up with
Hound Dog Taylor
in
Chicago
towards the end of the decade. When Delmark producer
Bruce Iglauer
could not persuade owner
Bob Koester
to sign The Houserockers, he formed Alligator Records to get the music out there. The success of their first album got the band and the label off to a great start, and Brewer's 'sheet-metal tone' had a lot to do with it. The Houserockers always put on a fantastic performance, as their many live albums show, but sadly Hound Dog passed away from cancer in 1976.
Brewer as front man on 'Poor Boy Blues', from his 1982 album;
Long time admirer and slide-guitar protegé,
JB Hutto
took over Hound Dog's spot for a while, then Brewer and Ted backed a lot of players around the Chicago clubs, including JB's nephew Li'l Ed and the renowned Bluesologist
Cub Koda
. In 1982, Brewer cut his first solo effort, 'Ingleside Blues' for the Wolf label, with Ted on drums and a largely redundant bass player, given the guitarists style. Brewer remained an occasional presence on the Chicago club scene, but did not record again until his 1996 album 'Homebrew'. Pianist Aaron Moore handled most of the vocals, but Brewer contributed his inimitable guitar boogies and a spectacular instrumental on the title track. Sadly, it was to prove to be his swan-song, as he passed away the following year.