Houston Stackhouse was a Delta slide-guitarist who would have been much more well known as a Bluesman if he had been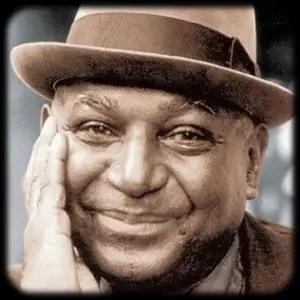 prepared to play outside his native region. He did not record until late in his career, but he accompanied many of the great Delta players of his day, especially his cousin Robert Nighthawk.
Houston Goff was born in 1910 in Wesson MS, but was brought up by the Stackhouse family, and he adopted their name. He taught himself to play guitar by listening to records by Blind Blake, Lonnie Johnson and especially Tommy Johnson, whose falsetto-voiced songs always featured in Houston's repertoire for the whole of his long career.
While his guitar technique was not revolutionary, Houston's crisp and aggressive style gave him the opportunity to play with his hero Tommy Johnson,
Charley Patton
,
Charlie McCoy
and even The Mississippi Sheiks. He tutored his cousin Robert Nighthawk, who proved to be an apt pupil, and the pair often performed together in local juke-joints, and it is said they played at the wedding of McKinley Morganfield before he became known as
Muddy Waters
. Robert was living in Helena AK when Houston moved there in the mid-40s, where they often played on
Rice 'Sonny Boy II' Miller
's King Biscuit Time Radio Show. Houston was part of Sonny Boy's King Biscuit Entertainers along with 'Peck' Curtis,
Willie Love
and Joe Willie Wilkins, who would play anywhere in the region so long as they could get back to Helena in time for their lunchtime radio date.
Houston plays Tommy Johnson's 'Cool Water Blues';
While most of his contemporaries had moved to
Chicago
or the
West coast
after WWII, Houston stayed in Helena, working in a car plant and playing part-time. He sometimes played with Frank Frost or The Boyd Gilmore Trio, but remained in comparative obscurity until 1967 when he cut a record with Robert Nighthawk and 'Peck' Curtis, and again in 1970 when he recorded for Dr. Dave Evans' University of Memphis music project. This gave Houston some late exposure, and he played some Blues Festivals in the 70s, venturing to new territory. The reluctant traveller even made a trip to Europe, but always seemed happiest on his home turf. With Joe Willie Wilkins, Houston revived The King Biscuit Boys for occasional gigs, until he passed away in 1980.