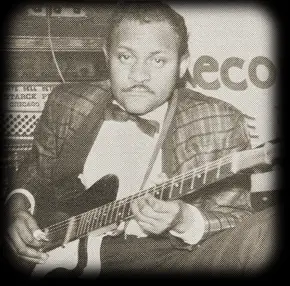 Pat Hare's aggressive, distorted lead guitar work at Sun Studios in 1953 literally set the tone for Blues rock, Rockabilly and Heavy Metal players decades later. In fact Pat's contribution to James Cotton's 'Cotton Crop Blues' with it's heavy power-chords, is sometimes cited as the first 'heavy metal solo'. Recruited by Muddy Waters in 1956, and playing on some of his most important records, Pat's insatiable taste for alcohol was to lead to personal tragedy.
Born in 1930 in Cherry Valley AK, with the unlikely name of Auburn Hare, 'Pat' was playing in
Howlin' Wolf
's band in 1948, making the scene around Beale Street in
Memphis
. He made his recording debut backing Walter Bradford at
Sam Phillips
' Sun Studios in February 1952, and Sam was quick to recognise Pat's mastery of tone and his coherent solo technique. Sam used him on records by Lillian Mae Harrison and many sessions with
Rosco Gordon
and
Junior Parker
's Blue Flames. One record Pat cut with Junior in 1953 was 'Love My Baby', which has a solo that inspired many rockabilly players with its melodic reverb, and it has been imitated so often so often it seems like a natural phenomenon. When Pat teamed up with harp player James Cotton, a rougher feel was called for, and Pat's harsh, heavily overdriven, screaming tone on the classic 'Cotton Crop Blues' is Heavy Metal in all but name. Decades before an effects pedal has even been thought of, Pat conjured a range of sounds from his tiny overworked amp that no-one else came close to matching.
Pat lets rip on 'Cotton Crop Blues';
In May 1954, Pat made some solo recordings for Sun that remained unissued for decades, and one of these, 'Gonna Murder My Baby', was to prove prophetic. Later that year, Pat relocated to Houston and became a first-call session man for Don Robey's Duke label, cutting many records with his old friends Rosco and Junior, as well as Bobby 'Blue' Bland and Big Mama Thornton. Then Pat was called to Chicago by Muddy Waters, who had already recruited James Cotton to his band. Pat's first cut at Chess was 'Forty Days and Forty Nights' in early 1956, and he played on the classic 'Got My Mojo Working', adding his spectacular guitar breaks to Muddy's performances for almost five years. The band played at the Newport Jazz Festival in 1960, and the subsequent live album made Muddy's name around the world, but Pat was credited as 'Tat Harris' on the album cover! Shortly afterwards, Pat was fired for drunken behaviour. A mild mannered and affable man when sober, Pat turned nasty when he had a drink, and when he started turning up drunk most of the time, he was unmanageable.
Pat singing his prophetic song 'Gonna Murder My Baby';
Pat moved to Minneapolis to work with another ex-Muddy sideman Mojo Buford, but in 1963, in nearby St. Paul, Pat's tragedy played out. He shot his girlfriend dead, and when the police came to investigate, he killed an officer too, so he was inevitably sentenced to life imprisonment. It seems he formed a band in jail, 'Sounds Incarcerated' and, after 16 years behind bars, he passed away from lung cancer in 1980.